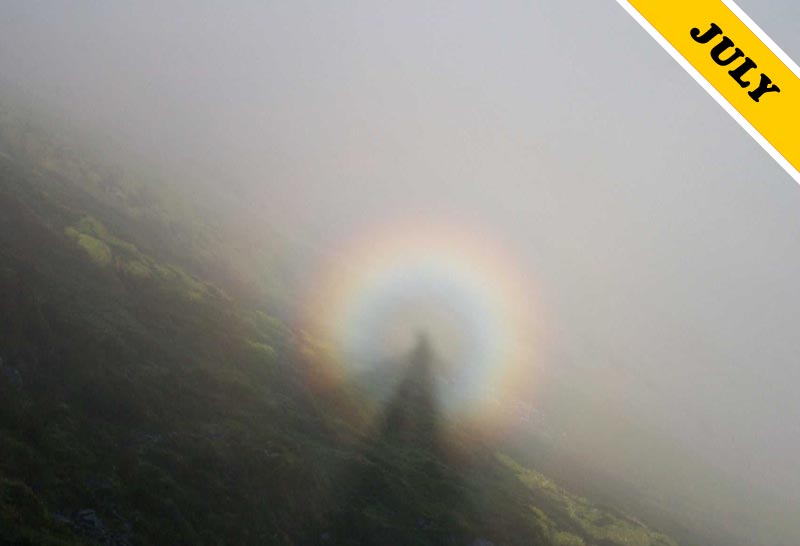 July 2006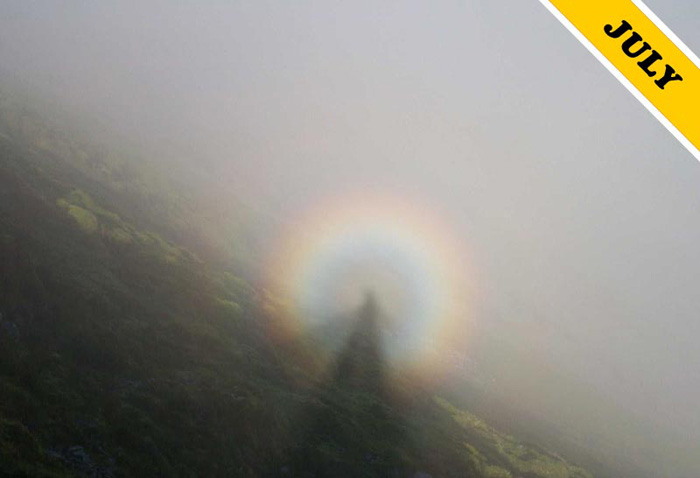 Photographed from Grisedale Pike, Cumbria, UK © Dave Newton
"Boo, Man"
When cloudspotting mountaineers and hill walkers are out on the Brocken mountain, a peak in the Herz range of Northern Germany, they often find themselves climbing through a bank of stratus cloud to emerge into the sunlight above. At this point, they can sometimes come face to face with a 'Brocken Spectre'. This fantastical apparition looks like a ghost from the sixties, for it is surrounded by rainbow colours and has very flared trousers.
A Brocken Spectre, like that in the photograph above, is not in fact a flower-power ghost at all. Nor is it the result of an LSD flashback. It is merely an optical effect that appears when sunlight, coming from directly behind the cloudspotter, falls onto a layer of cloud droplets. This situation tends to occur only on elevated ground, since the cloudspotter needs to be looking down onto the cloud layer, for the Sun to be shining from directly behind him, along his line of vision. The cloudspotter's shadow, hugely distorted by the effects of perspective, appears in the middle of a halo of colours, which are officially known as a 'glory'. This optical effect is still only partially understood.
Of course, cloudspotters don't have to climb the Brocken to see a Brocken Spectre – any mountain can serve the purpose. Nor is the sight of this psychadelic ghost only available to cloudspotters energetic enough to go mountain climbing. Sometimes, the coloured rings of a glory can also be seen around an aeroplane's shadow, cast onto the cloud layer below. Is this light effect known as a 'Boeing Spectre'? No, of course it's not.