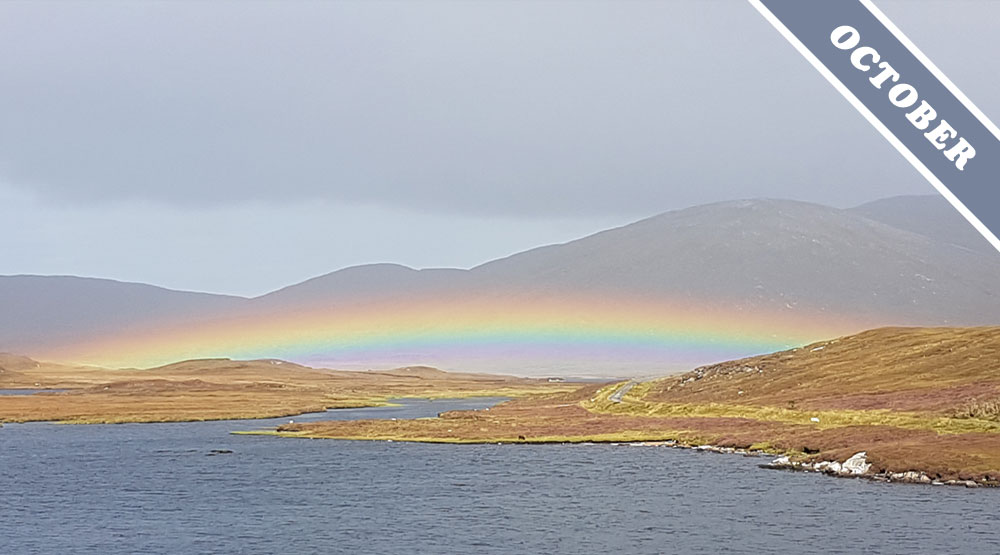 October 2016
A Lowbow
When you see a flat-looking rainbow right down near the ground like this, you are looking at a 'lowbow'. This is not actually an official term. In fact, we just made it up. But a rainbow does sometimes appear very near the ground like this – when it happens to form while the Sun is still fairly high in the sky. The amount of arc visible above the surface depends on the angle of the Sun above the horizon. This is because the bow is a part of a circle that is centred on the anti-solar point – the exact opposite direction from that of the Sun.
When the Sun is near to the horizon, the bow is almost a complete semicircle. When it is much higher, only the very tip of the rainbow appears. The cut-off angle is around 42 degrees. That's when the Sun is so high that a bow can only appear if its light reflects off raindrops below the surface that you are standing on – perhaps, when you are looking down onto a shower from a mountain peak. On level ground, this solar elevation is when the position of the rainbow has sunk so low that it is probably better described as a 'nobow'.
A lowbow over the Isle of Harris, Scotland. © Christine Barrons
A Response from our Poet in Residence

Katharine Towers, poet in residence at the Cloud Appreciation Society, has written the second of her Cloud Studies inspired by our Clouds of the Month. We loved her first, and we're equally delighted by this month's poem: 'Riddle'. Thank you, Katharine!
Cloud Study II
Riddle
I am neither here nor there.
I am umpteen million.
Or I am one, or I am seven.
Not one drop of me is overlooked
nor spared the masterstroke of light.
Only put the sun behind you
to believe in the ineffable –
which these birds don't.
They fly straight through,
glorified for a moment.
© Katharine Towers, September 2016
What do you mean you've never heard of a 'lowbow'?
Society founder, Gavin Pretor-Pinney, explains the effect to The Weather Channel, hoping the name will catch on.