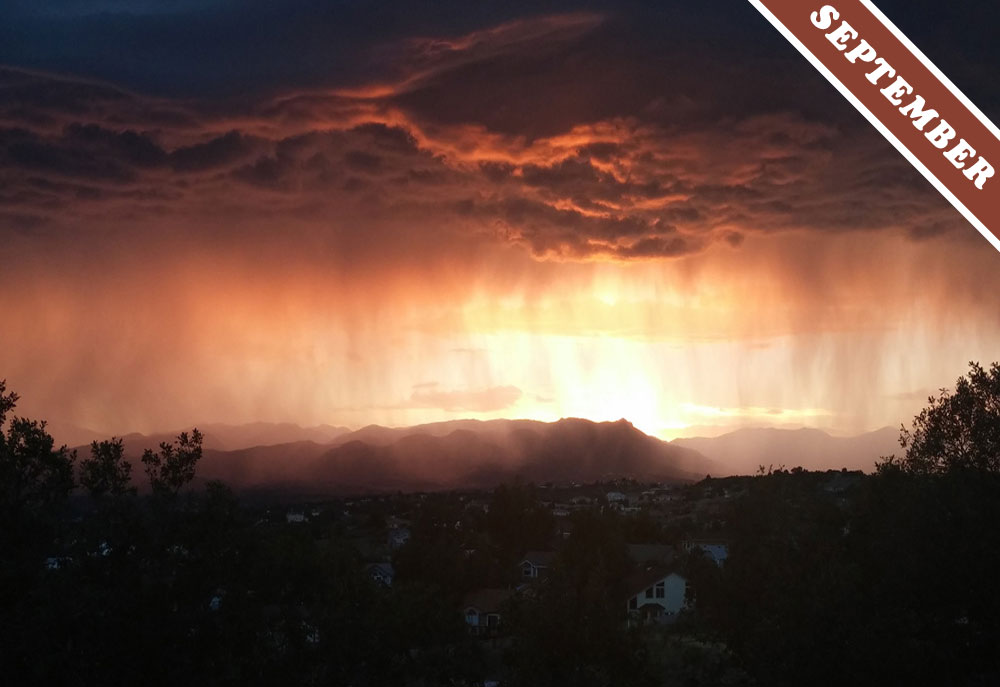 September 2016
A storm with mood lighting
We only ever see clouds lit from below for a couple of brief moments of the day: in the morning and the evening when the sun is low on the horizon. And the sky needs to be clear where the sun is so that its light can shine unimpeded up to the base of the cloud. The effect always looks dramatic, but it tends to look more menacing in the evening than the morning. This is the time of day when there's a greater chance the cloud is a Cumulonimbus – like the one we've chosen for September's Cloud of the Month, which was spotted over Colorado Springs, US, by Jennifer Koop. Storm clouds like this have ragged, irregular bases. Their rough contours aflame as the glancing rays shine through the sweeping curtains of precipitation. We love a storm at sunset.
A Response from our Poet in Residence
This poem by Katharine Towers, poet in residence at the Cloud Appreciation Society, is the first of her new series inspired by our Clouds of the Month. You can read Katharine's comments about the poem to below.
Cloud Study I
Cumulonimbus Sunset
A man fell through a cloud.
He found himself at the heart of bad weather.
His face froze blue and his clothes
seeped into his skin
and his belly rose up like dough.
He cried in blood and his ears
shrieked and shrieked.
He called to mind the earth
and the small hands of his wife.
Thus he forgot to pray.
He slipped out into a sunset
and embraced the pink grass.
The cloud just let him go,
busy with its own extremity.
© Katharine Towers, September 2016

"When I saw the photograph of the September Cloud I couldn't help thinking about the experience of Lt-Col. William Rankin, as described so vividly in 'The Cloudspotter's Guide'. Rankin was forced to eject from his plane at 47,000 ft and miraculously survived an electric storm, eventually landing in a pine forest in North Carolina. I was interested in the extraordinary physical ordeal he endured, in what his thoughts might have been and in the idea that the cloud will barely have noticed him as he passed through. Being spat out by a cumulonimbus must be some sort of lesson in human insignificance."
Katharine Towers, CAS Poet in Residence.