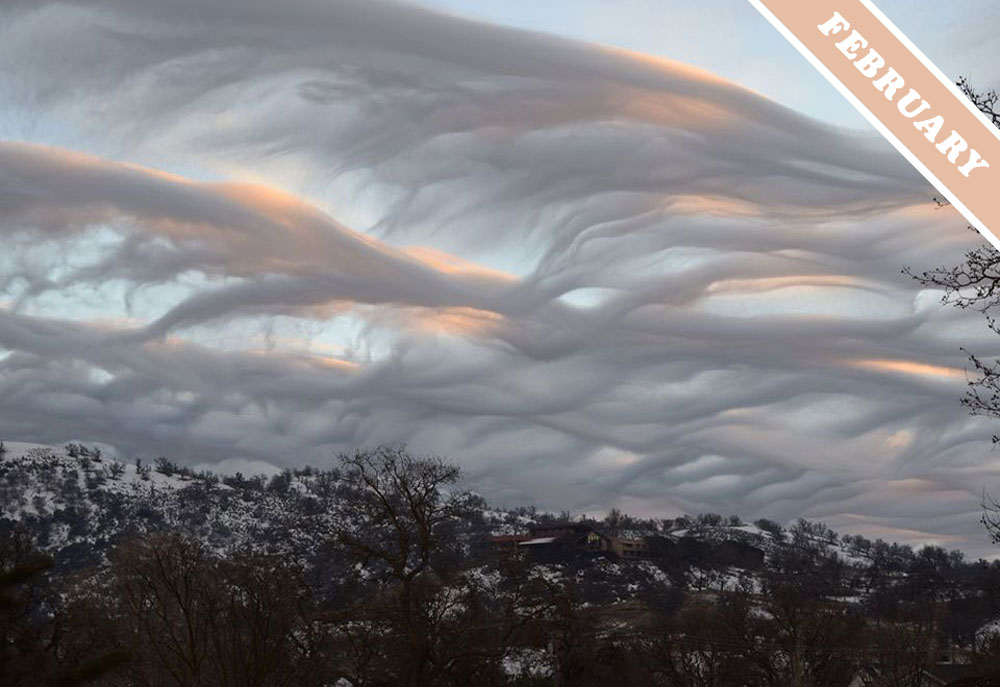 February 2020
Asperitas Clouds over Stallion Springs, CA
When a region of a cloud takes the form of chaotic, turbulent undulations, it is known as 'asperitas'. The name for this dramatic, wavy cloud formation comes from the Latin for 'roughness'. The idea for it becoming an official classification comes from members of the Cloud Appreciation Society.
Back in 2006, we received images of strange turbulent clouds spotted near storm systems over Cedar Rapids in Iowa, US. (like this one sent in by Christopher Singer). The crazy waves of cloud looked distinctive, and they appeared rather different from the more regular-looking wavy clouds we refer to as undulatus. Now that we were looking out for them, we started noticing the same chaotic wavy clouds coming in from other locations like Australia, Scotland and Greenland. Eventually we proposed that these distinctive clouds should have a classification of their own. Originally we suggested the slightly different name of 'asperatus', meaning 'roughened'. In March 2017, the World Meteorological Organisation agreed this should become an official classification. They tweaked the name a little to asperitas and added it to the cloud naming system, making it the first classification to be added since 1951.
The defining characteristics of asperitas clouds are the chaotic, turbulent wave shapes. They seem to appear most often along the base of a cloud layer in the vicinity of storm systems, like the amazing time-lapse video of asperitas filmed near storms over South Dakota by master storm chaser, Mike Olbinski. But the asperitas we have featured as Cloud of the Month for February is one whose turbulent waves have been induced by the interaction of wind with the terrain below. Spotted by Kathleen Bubenheim over Stallion Springs, California, US, these asperitas waves have gaps between them. Their tops are just catching the last rays of the afternoon Sun. Nice!
People often ask if this cloud really is a new arrival to our skies – and if it could perhaps be something to do with our changing climate. No, it is not new in that sense. After all, the nineteenth-century German artist Caspar David Friedrich spotted an asperitas formation back in 1835. With no smartphone to hand, he depicted the formation in a painting, Sea Shore in Moonlight, which now hangs in Germany's Hamburger Kunsthalle museum. All that is new is that we've noticed the formation and given it a name. We have been able to identify a pattern in the sky that doesn't happen often. It is one that has come to light thanks to the technology of smartphones, the interconnected nature of the Internet, and the amazing worldwide community of sky observers we call the Cloud Appreciation Society.
Altocumulus asperitas spotted over by Kathleen Bubenheim over Stallion Springs, California, US.
Mike Olbinski's timelapse video of asperitas clouds at sunset over South Dakota, US. Note that Mike gave the slightly different name for the formation as 'asperatus'. This was the name we had originally proposed, but it was tweaked to asperitas when the classification was eventually accepted as new type by the WMO.
The German artist Caspar David Friedrich depicted asperitas clouds in Sea Shore in Moonlight, which he painted in 1835. We never said we were the first to spot it!