World Meteorological Day on Thursday 23 March 2017 was themed on 'Understanding Clouds'. It marked the publication of the latest edition of the World Meteorological Organisation's definitive reference work on cloud classification: the International Cloud Atlas. This official resource for cloudspotters includes, for the first time, the 'Asperitas' cloud. It is a new classification of cloud, with a chaotic, turbulent appearance, that was proposed as a possible new cloud type by the Cloud Appreciation Society back in 2008 in response to photographs sent in from our members around the world. The recognition of the asperitas as a new classification of cloud is a classic example of citizen science, in which observations by the general public, enabled by the technology of smartphones and the web, have influenced the development this most official of classification systems.
First published in 1896, the International Cloud Atlas was based on the Latin naming system for clouds that has first been proposed in 1802 by Luke Howard. Howard gave names and definitions for a handful of cloud types such as Cumulus, Stratus and Cirrus. Almost a century later when the first edition of the International Cloud Atlas came out, the naming system had expanded to ten main types, or 'genera', of clouds along with more specific subdivisions. The reference work has been revised and added to every few decades or so when a new edition has been published.
The 2017 edition on the International Cloud Atlas is now online. It includes our new Asperitas cloud as a cloud type known as a 'supplementary feature' – one that is associated with the main cloud types Altocumulus and Stratocumulus (see the listing for Altocumulus supplementary features and Stratocumulus supplementary features). The Atlas also added Latin terms for a few cloud formations that had previously been known only with colloquial names, such as the breaking-wave shaped 'Kelvin-Helmholtz cloud' and the hole-punch shaped 'fallstreak hole'. These are now known by the Latin terms 'fluctus' and 'cavum' respectively.
Ever since we first noticed distinctive turbulent waves of cloud back in 2006 in images sent from Cedar Rapids, Iowa, US, we have argued that this formation did not easily fit within the existing naming system. So we were very pleased that, almost ten years later, Asperitas was finally accepted as an official classification by the World Meteorological Organisation (WMO).
Gavin Pretor-Pinney (Member 001) gave a talk to the WMO in Geneva, Switzerland on World Meteorological Day 2017 to mark the launch of the new edition of the International Cloud Atlas.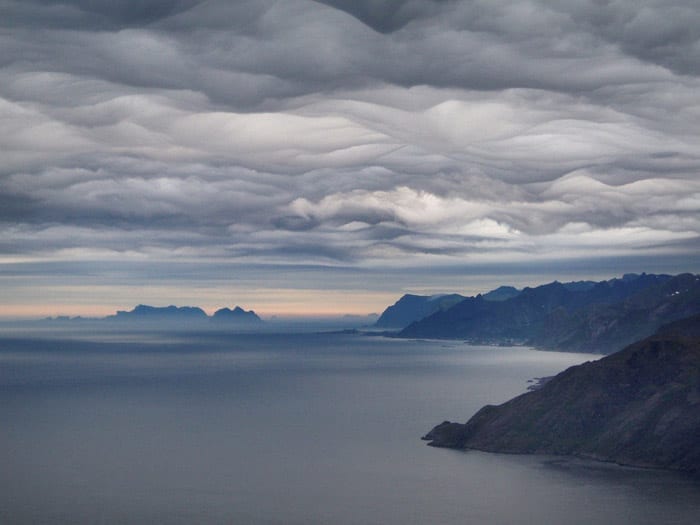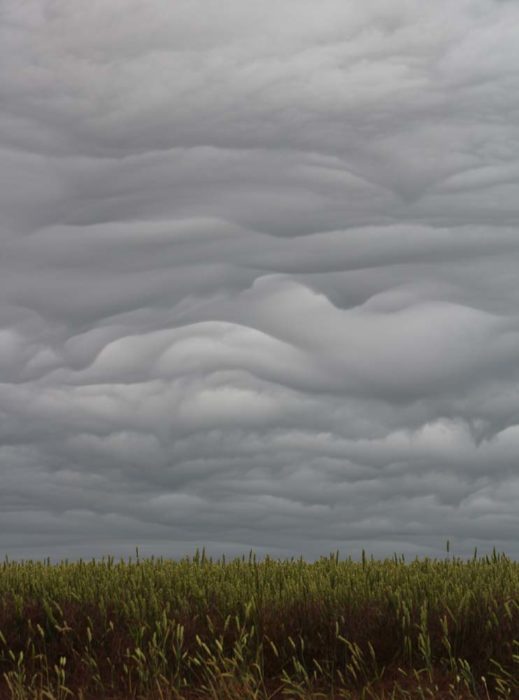 Main image: the newly classified asperitas cloud spotted over Burnie, Tasmania, Australia, by Gary McArthur (Member 5,353).