Roll Cloud (December 07)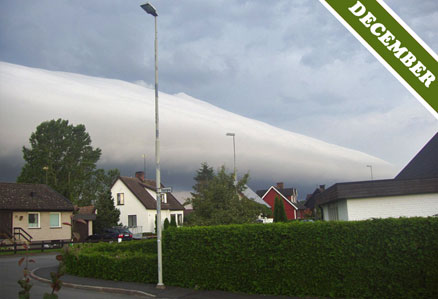 (Click image to enlarge) Photographed over Kristianstad, Skane, Sweden
© Rene Verduijn (see it in the gallery)


Over the years, many people have asked us whether the Morning Glory Cloud of Australia is a unique occurrence. It is such a dramatic phenomenon that it certainly seems like it should be. This long tube-shaped cloud, often stretches well over 500 miles, forming over the outback of Northern Queensland in a wave of air which glider pilots can surf just like regular surfers on an ocean wave. The Morning Glory cloud is not unique, however. 'Roll clouds' like this can and do appear in many other parts of the world.
While the Morning Glory tends to form at a much greater scale than anywhere else, roll clouds like the fine example above, photographed over Kristianstad in Sweden, can sometimes be seen traveling ahead of a storm. These more run-of-the-mill roll clouds can be formed by the sinking cold air associated with storms.
Vertical columns of warmer air surge up the middle of storm clouds, while cooler air sinks downwards around them – helped along by all the falling rain and hail. In certain conditions, this sinking air can hit the ground in such a violent way that it causes a solitary wave of air to advance ahead of the storm. In the middle of this advancing wave of air, a roll cloud can occasionally appear, rotating as it travels.
What makes the Morning Glory roll cloud stand out from the others is not only its dramatic size. It is also one of the few cloud formations whose appearance is quite regular. It tends to form in a particular region of Queensland at a certain time of year – the end of September / beginning of October. How un-cloudlike to be so dependable. Your average roll cloud is much more true to form: none of us have the slightest idea when or where one will come rolling overhead.