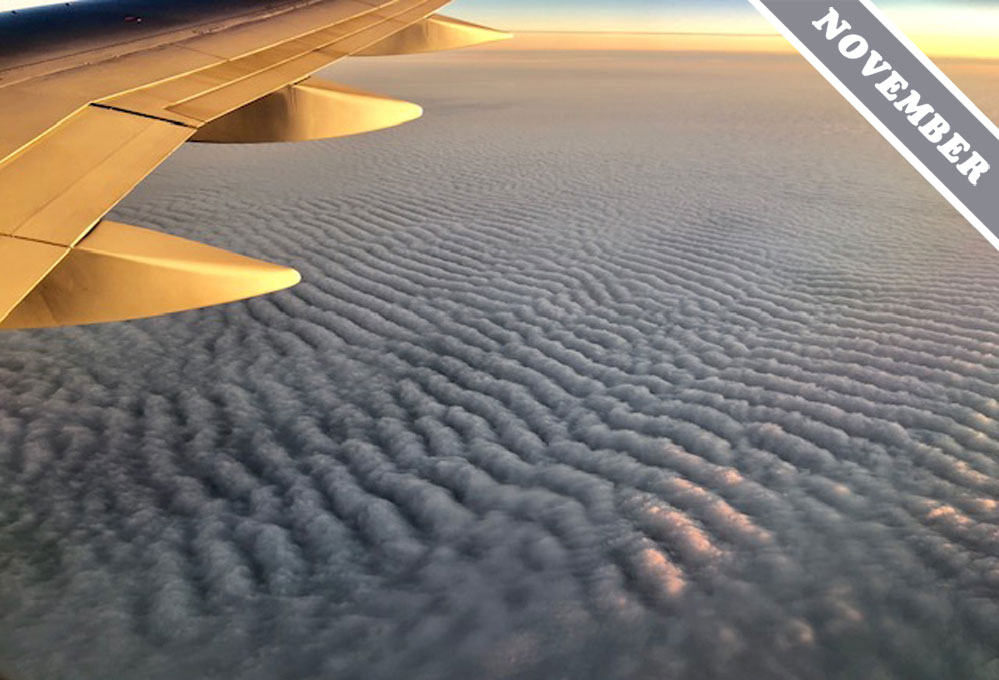 November 2018
Inspiration from the Window Seat
Whenever cloudspotters take a flight, they should aim to sit by the window. As this sea of Altocumulus undulatus shows, spotted by Shotsy Faust from a flight over the American prairies, the view of clouds from an aircraft can be breathtaking.
The window seat is a great place to learn about cloud formations. It is where you can view clouds up in their element. Before boarding, when you are still down at the airport, take a good look at the sky. You will learn most by comparing the clouds' appearance from the ground with that up in the air.
Take a low, clumpy, continuous layer of Stratocumulus. The cause for the variation in tone of its base will become apparent as you climb through the layer. Emerging into the brilliant sunlight, you will see how the light and dark patches below correspond to the cloud's shifting terrain of peaks and valleys above.
If it is high clouds that are visible from the ground, pay attention before departure to the formations in the direction of your flight. Distant patches of tiny, grain-like Cirrocumulus clouds turn out to consist of clumps sized like the familiar Cumulus we see down near to us on a sunny day. The difference in the size of the two formations is due simply to their distances. Cirrocumulus look tiny from the ground because they are all the way up at cruising altitude.
Another reason for nabbing the window seat is the drama. The perspective on the sky from above is sublime. Low Cumulus sprinkle the undulating landscape like bright white breadcrumbs. Translucent streams of Cirrus beside you flow with the icy winds of cruising altitude. Mid-level Altocumulus collaborate into strikingly ordered patterns that extend as far as the eye can see.
The drama of the sky from aircraft windows captivated the American modernist painter Georgia O'Keeffe when she took her first flight in her seventies. The artist flew around the world in 1959, and in the early 1960s she began a series of paintings called 'Sky above Clouds'. O'Keeffe wanted to capture the vast panorama of the clouds when viewed from on high. One of her canvases, 'Sky above Clouds IV' (1965), was an enormous 24 ft (7.3 m) in length. It was scheduled to be exhibited in a 1970 retrospective of her work at the San Francisco Museum of Art but it couldn't be displayed there. None of the museum doors were big enough for the painting to fit through.
So remember on your next flight to take your rightful place at the window. That is the seat for inspiration, the seat to gain perspective, the seat that's fit for dreamers.
Altocumulus undulatus spotted by Shotsy Faust from the window seat of a flight over the American prairies.