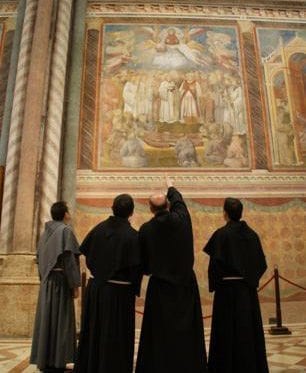 Giotto was a Closet Cloudspotter
In our first book,
The Cloudspotter's Guide
, we confidently claimed that the first painter to depict a cloud that looked like something was the 15th Century Italian painter Andrea Mantegna. The Cumulus cloud he painted in the background of his
St. Sebastian (1457-8)
looked like a man on horseback. But our claim that he was the first has just been proven wrong. Very wrong.
Chiara Frugoni, a cloudspotting art historian in Assisi, Italy, has discovered a cloud shaped like the face of the devil that was painted 170 years before Mantegna's cloud look-a-like. Frugoni spotted the depiction of the horned face hidden in one of the frescos by Giotto in the Basilica of St. Francis of Assisi. Frugoni has been researching the frescos for the past 30 years, and believes that Giotto's cloud face was painted in 1289.
In the 720 years since then, thousands upon thousands of pilgrims, tourists and scholars have gazed up and admired the paintings but it seems that no one has noticed the face until now. Though it is hidden within the Cumulus clouds near to an angel, Frugoni claims that "it is very visible" once you notice it. So why hadn't anyone else noticed Giotto's cloudy secret for all that time? "One sees what you already know," said Frugoni. "I assure you that now all will see it."
We are delighted to have heard of this momentous cloudspotting discovery (and grateful to Antonio Lazzarin of Milan, Italy for drawing our attention to it). Our only disappointment is that Chiara Frugoni didn't reveal Giotto's 720-year-old secret just a few weeks earlier. If we'd heard about it then, we'd have been able to mention it in the introduction of our new book before it went off to the printers. 'Clouds That Look Like Things' is a going to be a fantastic collection of cloud look-a-likes photographed by members of the society, which will be out in the UK in April 2012. It doesn't contain a photograph of a cloud in the shape of a Devil's face. But who needs the Devil, when we've got a pretty good likeness of Jesus?