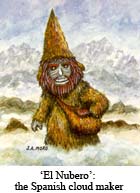 We have often wondered about the particular way that clouds form in the Cantabrian Mountains of Northern Spain. So we were very pleased to receive an email from a Franco Ferro, of Italy, to tell us that they are in fact made by 'El Nubero'.
He is a character, described in the folklore of the Asturian region of Spain, who is responsible for making the clouds.
We were amazed and impressed that Franco was able to capture this rare snapshot of El Nubero.