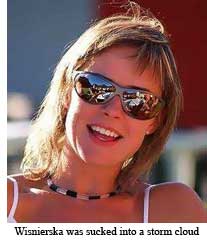 Many of our members have been in touch to tell us about Ewa Wisnierska, the German paragliding champion, who had the misfortune of being sucked up into the heart of an enormous Cumulonimbus storm cloud. They all pointed out that the incident had much in common with that of Colonel William Rankin in the 1950s, described in The Cloudspotter's Guide, in which he had to eject from his jet as he was flying over the top of a storm cloud, only to have the horrific experience of falling down through the middle of it.
Wisnierska's ordeal happend near Manilla, in Australia's New South Wales, on 14 February 2007, while she was training for the upcoming Paragliding World Championships. She was sucked towards the enormous Cumulonimbus by the strong air currents that flow up the centre of these storm clouds, and lost consciousness as she disappeared into the middle of it, rising at a rate of 20 meters per second. Her equipment recorded that she was sucked up to an altitude of 32,612ft, higher than Mount Everest.
Wisnierska was unconscious in the cloud for more than 40 minutes, during which time she was battered by hailstones the size of oranges and subjected to temperatures of -40 to -50 ˚C.
He Zhongpin, a Chinese paraglider, was also sucked into the cloud and, tragically, was found frozen to death 75 kilometers from his launch location.
Suffering from severe frostbite, Wisnierska nearly lost her ears in the ordeal. "From the theory, I knew the chances to survive are almost zero," she later told the press, "I knew I can only have luck, I can't do anything – and I got it."
Read an article on the incident from The Age newspaper:
www.theage.com.au