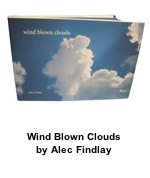 We were sent a book called 'Wind Blown Clouds' compiles by Alec Findlay. With it, he sent the following message:
'Since 1999 I have run an artist participation project titled Wind Blown Clouds, collecting slide photos from around the globe.I am about to publish a 228 page anthology of them (Wind Blown Clouds) with Rizzoli in NYC. This also features some haiku about clouds.'
and invited cloud photographers to contribute:
'You are invited to contribute to an anthology of 'wind blown clouds'. Take a colour slide-photograph of a wind blown cloud. Include
a note of the date and place the slide was taken, your name and postal address.
There is no limit to the number of clouds that you can submit. The clouds will appear in a forthcoming anthology.'
Alec Findlay,
morning star
Off Quay Building
Foundry Lane
Byker
Newcastle-upon-Tyne NE6 1LH
alecfinlay@yahoo.com