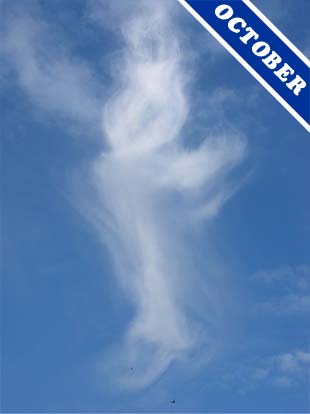 (Click image to enlarge) (Image © Mike Rubin)



Those unfamiliar with the habits of our fluffy friends will claim that it never snows on warm, clear, sunny days. Of course, a cloudspotter knows that they are talking complete and utter nonsense.
In fact, high clouds often produce snowfalls, which evaporate in the warmer, drier air below, well before reaching the ground. When this is the case, they exhibit supplementary features, known as 'virga'. These dangling tendrils of ice crystals (or droplets) often have a wavy appearance as they fall through the varying wind currents.
Sometimes virga, like the handsome specimen shown above, can hang in the air after the clouds that created them have given up the ghost. Other times, they can dangle below their cloud bodies like a school of quivering jellyfish (see the cloud gallery image). Luckily for glider pilots, hang gliders and little birds, virga do not sting.