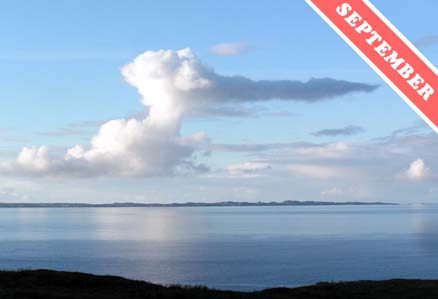 (Click image to enlarge)
Photographed over Isle of Mull, Scotland © Bob Norvill (see it in the gallery)


Over the years, we've tended to use the Cloud of the Month section as the place to discuss particular cloud classifications. We select a nice photograph from the Cloud Gallery, and say something about the particular genus and species of cloud it represents. This month, however, we are going to break with tradition. We are not going to classify the cloud formation at all.
The art of cloud classification is just a small element of enjoying the sky. At the end of the day, who cares if that cloud over there is a fine example of Altocumulus undulatus*? Does it really matter if that one off towards the horizon is a classic Kelvin-Helholtz wave cloud**? These classifications are just names – and often complicated Latin ones that are hard to pronounce. They merely reflect man's desire to impose order and regularity onto his world. To try and pigeonhole these most chaotic, free and ephemeral of nature's phenomena is mere vanity. No sooner have we managed to work out a cloud formation than it mocks us by changing its guise.
Therefore, in recognition of the ultimate futility of classifications, we will not identify the cloud in this month's photo. Let's just accept it for what it is, and say nothing more about it.
Then again, it does look rather like an elephant sneezing. br>
br>
br>
* Of course, if you do care, you need only click here.
** Likewise, if it does matter, you can always click here.
br>
br>