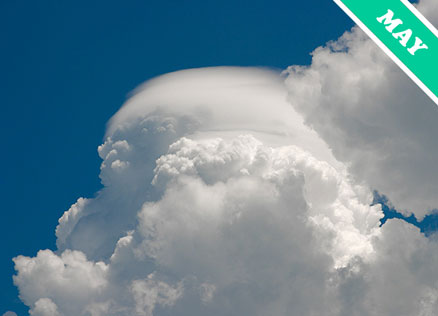 (Click image to enlarge) (Image © Justin Moore)


Enlightened meteorologists will tell you that the 'pileus' is not so much a cloud as it is a cloud haircut. It is a supercooled-droplet bouffant, worn exclusively by the fashionable cumulus family. If you keep your eyes to the sky, every once in a while you'll notice a proud cumulonimbus thunder cloud or his younger brother, the cumulus congestus, wearing this dashing haircut.
The pileus can form when a towering cumulus, like the suave model shown above, is pushing a moist layer of air upwards as he grows. If conditions are right, this elevation can be enough for the moist layer to cool and form into droplets, appearing as a smooth cloud over the cumulus congestus' puffy summit.
But cloud fashion is more transient than most and, as the cumulus cloud continues to grow, his head soon pokes through the top of the pileus cloud. Within a few short minutes, it has slipped to his shoulders, leaving the poor fellow with all the indignity of a lopsided wig.