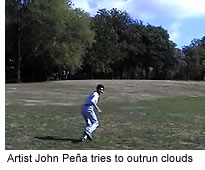 John Peña is an artist who likes to give clouds a run for their money.
He has also been known to put clouds into small packages and send them all over the world.
John, who lives in Washington State in north-west USA, describes himself as a cloud artist. "Although my art is a bit less traditional, I am devoted to the glory of clouds."
One of his projects was to try and outrun clouds, a futile exercise but fun to watch. You can see the video of this one-sided race here.
The idea to put a a cloud in the post was inspired by a walk in the hills near his home in Ellensburg. "I saw a cloud come so close to touching the ground that I was convinced it was going to get caught in the top of a tree and anchor itself. I thought how amazing it would be to run over and capture a part of that cloud and send it to a friend.
"This is exactly what I did and my friend greatly enjoyed it. I then thought how beautiful it would be to try and package an entire Ellensburg cloud and have the people of Ellensburg help me send it around the country and around the world."
Find more about John's cloud art on his website: www.johnpena.net