NOVA launches new Cloud Lab website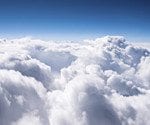 NOVA is excited to announce the launch of the Cloud Lab a the third Lab in a growing collection of research offerings on the NOVA Labs site. In this NASA-funded site users can learn how to track the development of storms and better predict their impacts by conducting their own investigations about developing storms.
The Cloud Lab also includes a cloud gallery with 260 beautiful images. Users are challenged to analyze the cloud images and classify each cloud type they observe in the image—collecting favorites along the way.
Join them on Facebook
Follow them on Twitter @theNOVALabs