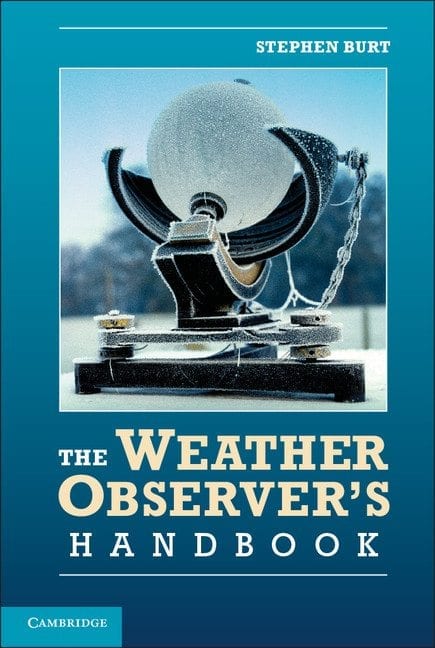 We are very pleased to announce that 'The Weather Observer's Handbook' by Stephen Burt is published today. The handbook provides a comprehensive, practical and independent guide to all aspects of making weather observations. It is ideal for both amateur observers looking for help in choosing their first weather instruments on a tight budget and for professional observers looking for a comprehensive and up-to-date guide.
Stephen Burt has been a long-time member of the Cloud Appreciation Society, and has been generous enough to help us with meteorological advice for several of our own books. His is a comprehensive and rigororous guide to weather observing, that also happens to be an entertaining read, and will make a great addition to any cloudspotter's bookshelf.
If you would like to buy a copy, you can do so from the bookseller links below. Alternatively, you can buy it directly from Cambridge University Press at a 20% discount: In the UK, download the 20% discount flyer and post it with a cheque; in the US, vist www.cambridge.org/us/9781107026810 and enter the discount code: E2BURT.
UK booksellers:
www.amazon.co.uk/Weather-Observers-Handbook-Stephen-Burt/dp/1107662281
http://www.waterstones.com/waterstonesweb/products/stephen+burt/the+weather+observer27s+handbook/8945909/
US booksellers:
http://www.amazon.com/Weather-Observers-Handbook-Stephen-Burt/dp/1107662281
http://www.barnesandnoble.com/w/the-weather-observers-handbook-stephen-burt/1109151482?ean=9781107026810
Australia and New Zealand (publication date September 2012):
http://www.cambridge.org/aus/catalogue/catalogue.asp?isbn=9781107026810
Cambridge University Press (linked worldwide sites):
http://www.cambridge.org/gb/knowledge/isbn/item6796421/?site_locale=en_GB
http://www.cambridge.org/aus/catalogue/catalogue.asp?isbn=9781107026810