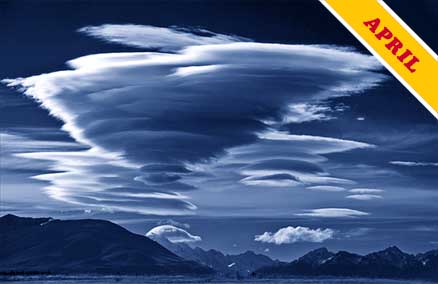 (Click image to enlarge) (Image © John Lamb)


The Altocumulus lenticularis is known affectionately by glider pilots as a 'lennie'. It is an orographic cloud formation, which appears in mountainous regions as air, forced upwards over the range, cools and sheds its moisture. If it so happens that the wind takes on a wave-like oscillation in the lee of the mountain, this handsome formation can form at the crest of each wave, resulting in a line of huge shimmering white discs.
Lennies look like enormous flying saucers. Have aliens parked beside New Zealand's Mount Cook for a cup of hot chocolate before the long ride home through the Milky Way? No, they've just come to remind us how clouds can be vehicles of the imagination, hovering silently in the rarefied air between crest and crag.