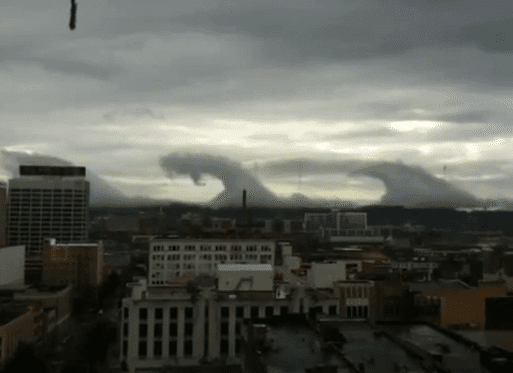 Kelvin Helmholtz Clouds Hit the Headlines
Frequent visitors to the society Cloud Gallery will be familiar with the beautiful and dramatic 'Kelvin-Helmholtz clouds', which look like
a series of breaking waves
and often appear in
a line of beautiful vortices
. Normally, these formations are spotted amongst mid-level or
high clouds
, and so are only noticed by cloudspotters who make a point of looking up. We made Kelvin-Helmholtz wave clouds worth 55 'cloud-collecting points' in our reference book The Cloud Collector's Handbook, in which you get point for the different clouds you spot (
UK version of the book is here
,
US version is here
). This is the highest points of all the clouds types in the book, since it is rare and fleeting formation that is easy to miss.
But not all examples of Kelvin-Helmholtz clouds are this elusive. Some recently appeared in the skies over Birmingham, Alabama, US, which no one could have missed. These wave clouds were so low in the sky, and had such prominent breaking-wave shapes that they stunned locals, who filmed posted videos on YouTube.
The dramatic waves soon flooded the media, newspapers and Internet. They became known as the 'Alabama tsunami clouds'.
The world may have been stunned that breaking waves can appear within the clouds like this but bit members of the Cloud Appreciation Society. They have been sending in their amazing and beautiful Kelvin-Helmholtz cloud photographs for years.