Jorge Fin, Member 0027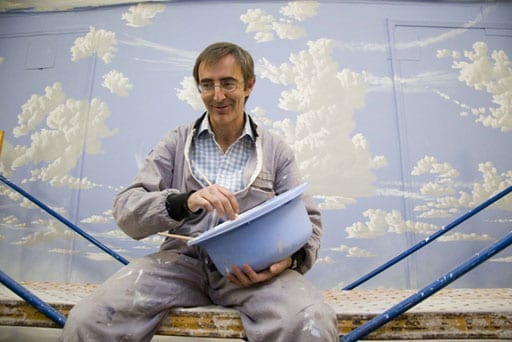 Jorge Fin, Member 0027, began painting clouds just as a way to relax. In the eighties, he used to be an economist working in the Madrid branch of Natwest Bank, until he realized that he had to escape. "I wanted to change my awful life," he told us, "and try to make a living painting."
So he quit his job and began making exhibitions. But his paintings were initially nothing to do with clouds: "My first exhibitions were very urban and modern. I only started painting clouds as a way of relaxing between the gallery work." He did his cloud sketches for himself, to be hung at home. But over time, the clouds became more and more dominant in his work.
"When I left the bank, my father was very worried about me. 'How the hell do you think you'll make a living? Nobody can live on air alone!'" This, Jorge explained to us, is a Spanish expression. 'Vivir del aire' means to make a living out of air, out of nothing. "It is funny, but that's exactly what I have done over the years."
Since 2006, Jorge has had the opportunity to paint cloud murals on all kind of surfaces. These range from huge wood panels that cover 55 square metres of a building facade in Los Llanos de Aridane, La Palma island, to 70-square-metre wall paintings over the stairs of a palatial house in Murcia, and ceramic wall painting for a petrol station in Torre Pacheco, Murcia. You can visit all of them on his web site www.jorgefin.com.
Jorge no longer lives in Madrid. He found a place to slow down and enjoy painting and watching the sky from under the palms trees of Murcia. "The clouds caught me," he says. "I found, within them, a way to poetry that is perfect for what I want to express."