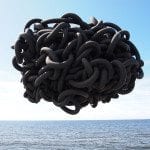 Norfolk and Norwich Festival are looking for enthusiastic cloud spotters to come and participate in an exciting installation taking place in Norwich city centre from the 11th to the 26th May.
We are currently inviting groups to come and hold different happenings, discussions, social encounters and events as part of 'It's all up in the Air', by Irish artist Rhona Byrne. The piece consists of a series of large 'black clouds', which the public are invited to wonder through or sit underneath on carpet islands. The clouds are made from black modelling balloons, and play on the opposites of the playful, celebratory, light weight nature of the material and the tense twisted dark heavy mass of a storm cloud.
It would be great to have members of the Cloud Appreciation Society come and share their knowledge, experiences or even quirky facts so we can really make the most the space and this amazing project. We are up for all ideas and it would really be up to you about how you would like to run it – perhaps you would like to have an in-depth discussion about the science behind clouds, share images or stories, or just sit and chat. Our only request is that the public can join in and develop a greater understanding of what it's all about!
If your group are based in Norfolk or the surrounding area and would be interested in hosting a meeting or discussion about cloud appreciation under the big black clouds, please contact Lizzie@nnfestival.org.uk for more information. For more info on the artist please visit her website
You can see the full details of this and other events at the festival here