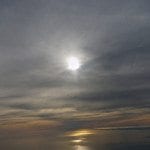 Katherine Meadowcroft recently sent us a link to her blog "Humble, All Too Humble" and her recent post "Head, heart and soul in the Clouds".
It is an article exploring the appreciation of clouds in art and is beautifully written… " Diaphanous clouds metaphorically nod to life's permutations and impermanence. One need only beckon the natural world to remind us, it is here, right now, that we must pay attention, because in a flash it changes".
Click here to read the full article.