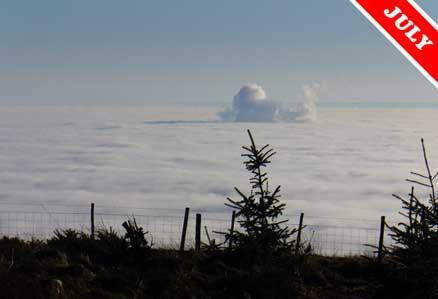 (Click image to enlarge)
Photographed over Cwmcarn, Wales © Huw Collings (see it in the gallery)


Cloudspotting is not an activity to be rushed. Most clouds appear to move at a more sedate pace than we do down on the ground and so one has to slow down to watch them develop. It is this requirement to wind down that makes cloud gazing so relaxing.*
What better expression of the change in pace that comes with a bit of meteorological meditation than this cloud in the shape of a snail, emerging from the fog over Newport in Wales, UK?
It is a formation that is sometimes known as a 'fumulus'. The name comes from the combination of fumes and Cumulus, for this cloud has developed from the moisture contained in the gases rising from a steelworks. How ironic that such a beautiful allusion to the calming drift of the clouds should have been caused by the relentless march of heavy industry.

* In fact, clouds often move very fast but their movement appears gentle when viewed from some way away.