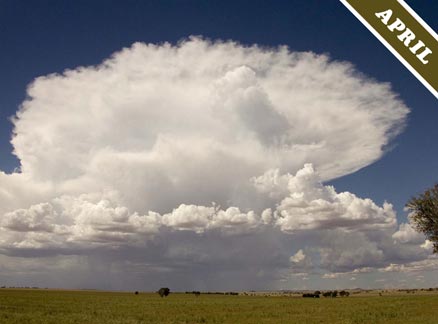 (Click image to enlarge)
Photographed over Laura, South Australia © Tina Moore (see it in the gallery)


The dramatic, and often violent, storm clouds known as Cumulonimbus are divided into two species: 'calvus', meaning bald, and 'capillatus', meaning hairy. The difference, unsurprisingly, is to do with the appearance of the cloud's summit, which can reach 11 miles (17km) into the sky.
If the head of a thundercloud has only slighly fluffy edges, the Cumulonimbus is defined as the younger, balder calvus species. Once it has developed into a lumbering, mature beast, it will often have grown the ice-crystal locks of the capillatus. These might be in an afro style, like that sported by the handsome Australian specimen, above. Or they might be in one of many other styles, such as the quiff, the thinning-on-top or the just-stepped-out-of-a-salon.
We've heard enough nonsense about the hairy mammoth dying out with the last ice age. In fact, it is terrorising our skies on a regular basis. And the only thing frozen about it is its buffon.