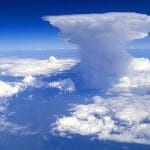 This is the title of a insightful and entertaining article by Christopher Middleton included in the Daily Telegraph on 10th September 2010.
Christopher describes his visit to Britains first Cloud Bar at Anderby Creek near Skegness. He writes "Spend an hour on top of the Cloud Bar (no drinks, it's a little fort) and you become an instant expert on telling your "altos" (four to six miles high) from your "cumulos" (anything lower). As for "cirros", they don't start until eight miles up, identifiable because of their, well, wispiness (cirrus in Latin means a strand of hair)".
He also gives wide mention of the Cloud Appreciation Society and has some interesting and descriptive quotes from Gavin Pretor-Pinney, our photo gallery editor, Ian Loxley and CAS member Mike Rubin, a glider pilot from Hampshire.
The full article can be found here and includes some cloud definitions at the end.