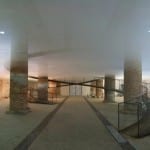 Cloud Appreciation Society member, Kate Jordan-Moore has drawn our attention to clouds being featured at the 12th edition of the Architecture Biennale of Venice.
The exhibition runs from 29th August to 21st November at the Giardini and other venues in Venice. 'Cloudscapes' is an indoor cloud created in an 800m2 room in the Venetian Arsenal and forms the central installation in this most prominent of spaces. It was created by German climate engineering company Transsolar and Tetsuo Kondo Architects.
You can see more about the installation here and watch a video here and a further link to images has been sent in by cloudspotter Peter Kaiser.
CAS founder Gavin Pretor-Pinney comments that this is not the first time that clouds have been employed in architecture. It was done most notably at the Swiss Expo in 2002 by the architects Diller and Scofidio who designed the Blur Building which consisted of a cloud created over a lake. You can see more about this here and watch a video of it here