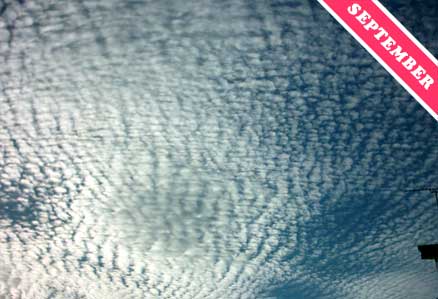 (Click image to enlarge) (Image © Chris Dolley)



Wizened mariners pay careful heed to dramatic displays of the cirrocumulus cloud, which they refered to as a mackerel sky. It can be a precursor of storms at sea, warning them to batten the hatches and stow the mainsal.
More often than not, however, this high cloud appears in less extensive patches – usually in the company of its relatives the cirrus and cirrostratus.
The term mackerel sky is often erroneously used to refer to this cloud's lower cousin, the altocumulus, whose elements, or 'cloudlets', are larger. Cloudspotters can distinguish the two by a simple rule of thumb. If the cloudlets directly above appear smaller than the width of a finger held at arm's length then they can be confident they are looking at a cirrocumulus.
Care should be taken with the use of this rule, however, for the cirrocumulus is a beautiful and uncommon cloud, to which cloudspotters wouldn't want to give the impression that they are making a rude gesture.