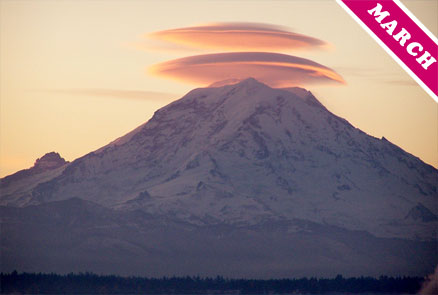 (Click image to enlarge) (Image © Skip Probst, 2/26/03)



When dressing up for the evening, there is always the danger of overdoing things. Tonight, Washington's Mount Rainer – clearly eager to make an impression – has decided that the classic mountain look of a single 'cap cloud' perched upon her summit is not dramatic enough. She's gone and made the fashion faux-pas of opting for a pair of them.
Cap clouds, like their lenticularis cousins (see Cloud of the Month for April '05), are known as 'orographic clouds'. This means that they form when air cools as it rises to pass over an obstruction such a mountain. If the airstream is moist enough, such cooling can cause droplets to form and appear as a cloud – it is much like breath becoming visible as it mixes with the air on a cold morning. Two cap clouds can appear, one above the other, when the airstream consists of layers of moist air, separated by a drier one.
Mount Rainer's sense of restraint will surely have returned by tomorrow. And in time, like the rest of us, she'll doubtless muse upon the sartorial choices of days gone by, and gently blush in the honeyed rays of the setting sun.