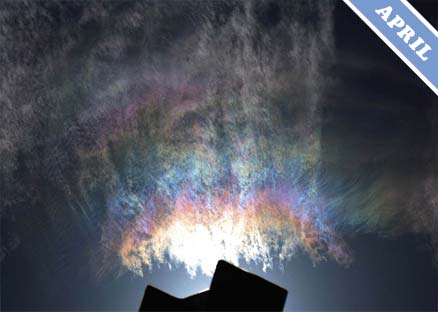 (Click image to enlarge) Photographed over Perth, Western Australia © Dane Gerneke.
See this photo in the Cloud Gallery here.


Closely related to the optical effect called a corona, the bands of pastel colours produced by this cloud are known as 'iridescence'. When the Sun is at the right position, preferably hidden by thicker cloud making observation safer and easier, the cloud's droplets or ice crystals can diffract the sunlight passing through. The array of microscopic cloud particles bends the coloured constituents of sunlight by different amounts, separating them out into bands.
Iridescence can often occur in Altocumulus and Cirrocumulus clouds, but appears most often in lenticular clouds. The effect tends to be observed at the clouds' fringes, but it can occasionally appear over large areas, as it has in this fine Cirrocumulus over Perth, Western Australia. Iridescent colours look most dramatic in a young cloud, whose newly formed droplets all tend to be around the same size.
We are genetically programmed to see the beauty in our own children, regardless what little terrors they actually are. But what of baby clouds? Surely everyone loves the iridescent glow of their tender cheeks – especially as they don't even demand to have their nappies changed.