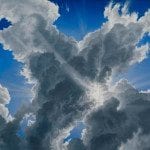 Moatti Masters|Contemporary is pleased to present a major
exhibition of works by the Italian landscape painter Alberto
Bertoldi at their gallery premises on Mount Street in Mayfair,
London. The exhibition brings together a recent collection of
works alongside special commissions from the artist's Cloud
series, being shown for the first time in the UK. Alberto Bertoldi
(b. 1955) began staging award-wining solo shows across Italy in
the early 1990's, before going on to exhibit worldwide at galleries
and shows including Daegu in South Korea, Galerie
Zur.Hofstatt in Basel, Hermitage Gallery in Texas, USA, and
Society Redaktionfest in Vienna. In 2012 he exhibited at the 54TH
Venice Biennale, under the curatorship of Vittorio Sgarbi. He
has been awarded numerous prizes throughout his career
including the Purchase Award and Solo Artist Award from Forni
Gallery. Alberto Bertoldi's Cloud works represent a
contemporary exploration of the Classical traditions of "plein
air" painting, capturing the beauty of painting natural light in all
its power and exploring the human obsession with cloud
formations. This is the inaugural show for Moatti
Masters|Contemporary – a new venture by Emmanuel Moatti
combining his 30 years career in old masters with his passion for
collecting contemporary art, to open a gallery space connecting
the two disciplines and work with living fine artists who draw
inspiration from the art-historical language, in order to create a
new modernity.
The exhibition runs from 1st to 30th October at Moatti Masters|Contemporary, 23 Mount Street, London, W1K 2RP – for more details, please see their website Moatti Masters|Contemporary