Azhy Hasan, Member No 1,687, has just organised an exhibition of cloud photographs by members of The Cloud Appreciation Society in his home city of Erbil in the Kurdistan region of Iraq. The show, called 'A Carnival in the Sky', took place over a weekend in the prestigious and dramatic setting of the Shanedar Gallery within one of the city's parks. It was a great success with many hundreds of visitors passing though during the three days.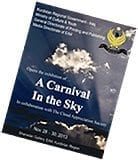 The visitors spanned all ages, from school children to religious elders, and came from a range of locations within Kurdistan and Iraq, as well as from Egypt, Iran, USA and China. One visitor from the Iranian region of Sardasht beckoned Azhy over when he noticed that his own name appeared in the caption to a photograph of high, wispy clouds over Erbil City. The man's parents had named him Cyrus, after the great king of Ancient Persia. The name is pronounced "See-roos" in Persian – and so sounds like the Latin cloud name Cirrus, which means a lock of hair, that is used to describe this cloud type. "Today," exclaimed Cyrus, "I was amazed to learn, for the first time in my life, that my name is the same as that of this most beautiful of clouds."
Supported by the Kurdistan Ministry of Culture and Youth and the Media Directorate of Erbil, the exhibition included photographs taken by a number of Society members, who all kindly agreed for their wonderful images to be shown. The photographers, in addition to Azhy himself, were Peter Andermann, Lauren Antanaitis, Cristina Diaz, Ron Engels, Jörg Gundlach, Vicki Harrison, A.J. Hidding, Phil Holmes, Andrew Kirk, Ian Loxley, Paul Martini, Kamila Mazurkiewicz, Ally McGurk, Derek Mundil, Doug Short, Norman Shulman and Basil Stathoulis.
"As I gazed into the colours and shapes in these photographs," commented a local poet, Mr Muhsen Awara, "I realised that you have given clouds a voice. Of course, I have always seen clouds from the ground or in a plane, but this is the first time I've seen such amazing shapes and formations. These clouds express themselves like a poem, and they have filled me with imagination and spiritual feelings."
Mr Azad Hamadamin, President of the Kurdistan Journalists Syndicate, revealed how the exhibition made him consider the sky in a way that he never had before. "For the first time in my life," he said, "I feel that clouds are a wonderful and almost living part of nature. Well done for this wonderful gift to our people and very best wishes to all who participated in this unique exhibition."
Azhy Hasan was very grateful to all the photographers who agreed for their images to be in the exhibition. "Believe me, you made a new history in this country," he said. "So many people here have been introduced to CAS, and many of them only now realise for the first time that clouds actually have names, rather than just being fuzzy shapes that drift across the sky." The Society is pleased and proud to have been able to help Azhy's great work to bring the beauty of clouds to the attention of the people of Erbil City.