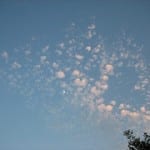 Steve Constantelos of Chicago, USA recently wrote to tell us about a photo project he undertook last year.
Each day during 2010 Steve photographed the sky. Steve wrote "Unbeknownst to me, you and your fellow members of the Cloud Appreciation Society have been spreading the message of loving the local and the non-wholly-blue sky that I also hold near and dear to my heart. I am very happy I finally found you".
Take a look at Steve Constantelos's photostream to see the shots he has taken so far this year.