This beautiful, sterling silver cloud pendant has been hand-crafted by jewellery designer/maker Sheila Raven at her studio in Oxfordshire, England. It hangs from a tightly-woven, sterling silver box chain.
Raincloud dimensions: 26mm wide x 16mm high
Length of silver box chain: the chain has an extension so it can be worn at a 40 or 45cm (16 or 18in) length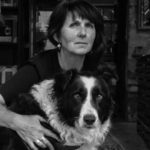 Sheila Raven is a freelance archaeologist as well as a jewellery maker. As someone who has spent many years studying and cataloguing beautifully crafted metal objects from the prehistoric, Saxon and Roman eras – she has developed a special interest in metal-working technology and the use of nature and symbolism in designs from our ancient past. Sheila started silver smithing many years ago as a way of understanding the ancient processes of jewellery making, and she found it to be a medium that perfectly suited her own creative interests. For the past couple of years she has specialised in designing pieces inspired by nature. Her studio is in the picturesque, ancient town of Witney in Oxfordshire, which she shares with her sheepdog Bryn.