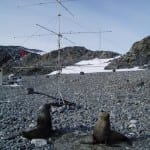 Radio 4's 'So You Want to be a Scientist' NLC (Noctilucent Cloud) project brings together amateur Welsh scientist John Rowlands, 41, based on Anglesey, with The University of Bath's Professor Nick Mitchell and his atmospheric research team. John's entry was one of four finalists chosen by a panel of eminent scientists from over 1300 entries.
Bath University is providing access to the latest VHF radar, based in Sweden and NASA satellite observations to measure wind speeds and temperatures in the mesosphere, where NLC form, which lies some 50 miles (82km) above the earth – about 10 times higher than the highest normal weather clouds. The experiment will try to predict the onset of a cold phase of the 5-day planetary wave, a huge oscillation in winds within the mesosphere that may influence the occurrence of NLC. Later in the summer, John and Nick will try to predict when NLC might form,
and the BBC's weather service will run a noctilucent cloud forecast on suitably clear nights. They aim to get as many people as possible out under the night sky and enjoying one of nature's most beautiful and eerie sights.
NLC are predominantly seen in the northern and north-eastern part of the sky from late May until early August each year. The mesosphere is the coldest part of the earth, dipping to about -150 degrees Celsius. NLC ice crystals most likely nucleate on meteoric dust particles, as
this is where shooting stars burn-up as they enter the earth's atmosphere.
The image above is of sealions and antenna is a VHF radar used to measure the wind velocity within the mesosphere. This one is in Antarctica, but an identical unit based in northern Sweden will be used for the BBC experiment.
There is a Facebook Page (BBC controlled) about the experiment here and the University of Bath Research pages can be found Visit the website here