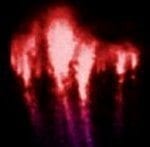 Diana Willcox, Secretary of the Macclesfield Astronimical Society has asked us to let you know about an upcoming talk on Red Sprites. It will take place on Tuesday, April 3rd 2012 at 20.00 at Hulley's, Astrozeneca in Macclesfield.
The speaker, Peter McLeish. is a multimedia artist, filmmaker and painter from Montreal. He has been involved in collaboration (based on Red Sprites) with American Scientist Walter A Lyons. Peter's lecture will include a video presentation and footage of this startling phenomenon.
If you would like to attend this talk you should visit the Macclesfield Astronimical Society website to reserve a ticket and find directions.