Mysterious Cloud Spotted over Pt. Townsend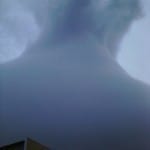 A strange vertical cloud was spotted on the 25th May 2011 off Port Townsend.
Lenore Maranan-Goldstein, the managing director of the Northwest Maritime Center & Wooden Boat Foundation, took these two photographs of the clouds as they sat just off the northern tip of Marrowstone Island.
You can see the full story here