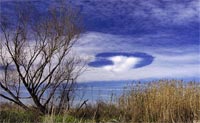 'Hole punch clouds', also known as 'fallstreak holes', occur when patches of high cloud freeze and fall as ice crystals, leaving a dramatic gap behind. You can see examples of fallstreak holes in our cloud photography gallery.
The formations only appear in cloud layers consisting largely of 'supercooled' water droplets. These remain liquid even though temperatures are often well below freezing point. They are unable to freeze without airbourne particles, known as 'freezing nuclei', on which to get started. Sometimes there just aren't enough of these particles floating around in the atmosphere for droplets to turn into ice crystals. In these situations, the introduction of suitable nuclei into a region of supercooled cloud can make it freeze and fall below. The particles in airline exhausts can serve as freezing nuclei, as can ice crystals themselves, falling from Cirrus clouds above.
Peter Roper, Cloud Appreciation Society Member No. 5840, alerted us to this NASA image of hole punch clouds photographed from space. The lines are caused by aircraft flying near to the cloud. The holes are probably due to Cirrus falling from above.
Hole punch clouds from NASA's Terra satellite:
http://earthobservatory.nasa.gov/Newsroom/NewImages/images.php3?img_id=17539