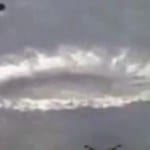 We were sent a photo of a luminous ring-shaped cloud hovering over the Kremlin in Moscow recently. A video of this cloud was posted on YouTube and it soon became a world news story, prompting many to claim that it was of a supernatural nature or a UFO or some sinister government-sponsored experiment.
The story appeared in newspapers around the world, all of which reported the exact same story (e.g. in the UK: The Sun, The Daily Mail, Metro; in the US: New York Daily News; in China: China Daily News). An unnamed Russian meteorologists was quoted, saying 'This is a purely optical effect, although it does look impressive.'
We are stunned that no one knows that this is a straightforward and fairly common cloud formation, called a fallstreak hole. It is not an optical effect, nor is there anything paranormal about it. We wrote a Cloud of the Month about it a few years back. There are tonnes of photos of fallstreak holes on our photo gallery, sent in by members.
Have journalists stopped bothering to ask questions before printing a story? Can the so-called meteorologist really not know that fallstreak holes form quite regularly all around the world? Clearly, our mission to persuade the world to look up and notice the clouds is far from over.