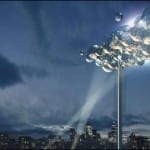 Nicky Schroder, member 8032 has drawn our attention to this article in the BBC news.
This unconventional structure was originally envisaged as a centre piece of London's Olympic village and has been shortlisted in a competition set up by London Mayor Boris Johnson who has committed to build a tourist attraction in the Olympic Park "with a legacy for the east end of London"
The giant "digital cloud" would "float" above the London skyline and would include 120m tall mesh towers and a series of interconnected plastic bubbles used to display images and data.
The Cloud, as it is known, would also be used as an observation deck and park.
Funds to build The Cloud would be raised by 'micro-donations' from millions of people. "It's really about people coming together to raise the Cloud," Carlo Ratti, one of the architects behind the design from the Massachusetts Institute of Technology (MIT) told the BBC.
"We can build our Cloud with £5m or £50m. The flexibility of the structural system will allow us to tune the size of the Cloud to the level of funding that is reached."
The size of the structure will evolve depending on the number of contributions, he said.
For more information about The Cloud and how to make a donation can be found here