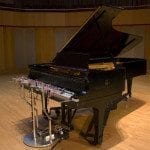 This cloud piano sculpture/installation was created by David Bowen and was commissioned by L'assaut de la Menuiserie, Saint-Etienne, France. This installation plays the keys of a piano based on the movements and shapes of the clouds. A camera pointed at the sky captures video of the clouds. Custom software uses the video of the clouds in real-time to articulate a robotic device that presses the corresponding keys on the piano.
You can read more about this and view a video of it in action on David Bowen's website
Thanks to Cloud Appreciation Society member Patricia Ludwick, for sending this to us.