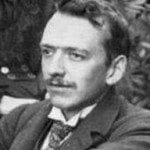 An article was posted on the BBC News Scotland website about Charles Thomson Rees Wilson the only Scottish-born physicist ever to have won the Nobel Prize for Physics and who was inspired by the cloud formations he had witnessed on Ben Nevis.
The story goes into depth about his work tracking particles and his attempts to recreate clouds in his laboratory. Over a 20 year period he developed a cloud chamber which "made things visible whose properties had only previously been deduced indirectly" (Dr Alexander Mackinnon, honorary research fellow (Physics and Astronomy) at the University of Glasgow).
The article ends with a quote from Alan Walker, an honorary fellow of the School of Physics and Astronomy at Edinburgh University who said "Who would have thought that sitting on the top of Ben Nevis being in wonder at the clouds would have ended up actually laying the foundation of discovering things at the very small level.
"That must have been quite something to have gone from just being interested in clouds to ending up inventing something which was the birth of particle physics."
To read the full article please go to the BBC News Scotland website.
Thanks to Society member, H Brown for bring this to our attention.