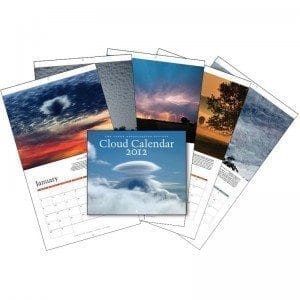 We've got a few left of society's Cloud Calendar, 2012. So, in the long tradition of February calendar discounts, we now have them on sale at half price: just £4.99 each (+ postage/shipping).

Each month of the Cloud Calendar features a stunning cloudscape photographed by a member of the Cloud Appreciation Society, selected from the many thousands on our photo gallery. For each image, there is a brief account by the member of what inspired them take the photograph and, at the back of the calendar, a spread gives descriptions and explanations of the cloud formations featured.
You can buy the discounted calendar in our cloud shop.