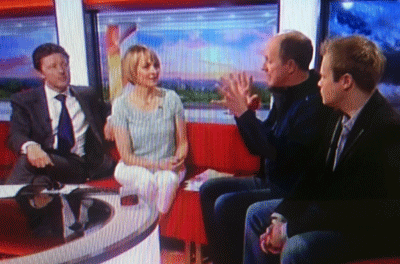 The Cloud Appreciation Society went on BBC Breakfast
On Saturday 5 May, we were invited onto BBC Breakfast to chat about the Society's new book, 'Clouds That Look Like Things'. The BBC invited viewers to send in thier own photographs of clouds in the shape of things. Amongst the many great photos sent in was a great one of Margaret Thatcher. As is always the case on TV, they had very little time to show them. We could them on the presenter's little computer screen, and wish they'd been able to show more. Many thanks to any members who took the trouble to send in their images.
Of course, you can always see the latest Clouds that Look Like Things on our gallery pages.