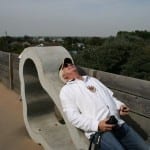 August this year saw Cloud Appreciation Society member Ron Bishop visit The Cloud Bar at Anderby Creek on the east coast of Lincolnshire, we believe Ron to be our furthest travelled international visitor to the Bar.
Ron is a pilot for Qantas airlines and lives near Melbourne, Victoria, Australia. Whilst at the bar he was interviewed by Radio Lincolnshire and gave a fascinating insight into life as an airline pilot and his occupational involvement with, and leisure time interest in clouds.
Ron has submitted a number of photos for the gallery taken from his office window on the flight deck.
Lower cloud formations were not visible during the visit by Ron, Ian the society Photo Editor, and Ian's Wife Carol, who he stayed over with in Lincolnshire, but high Cirrus and Cirrostratus were observed.