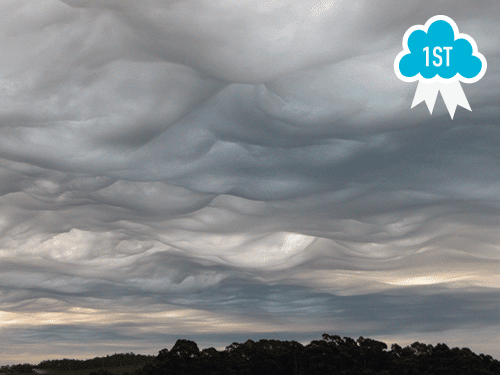 The Winner of our Asperitas Photography Competition is announced
Many congratulations to Gary McArthur of Burnie, Tasmania, Australia!
The winner of the Cloud Appreciation Society Asperitas Competition was announced at our Escape to the Clouds event at the Royal Geographical Society in London on Saturday 26 September 2016. Gary McArthur's photograph of the asperitas cloud was chosen from the shortlist (see below) by a task team brought together by the World Meteorological Organisation to update their International Cloud Atlas. Many congratulations to Gary. His photograph is due to be used as the asperitas reference image in the forthcoming edition of the International Cloud Atlas. He also wins our 'ultimate cloudspotter's kit'.
George Anderson, one of the UK members of the WMO task team, joined us live at our event via Skype to tell us the team's decision. the Since 2008, we have argued that this dramatic and distinctive cloud formation deserves a classification of its own. Now The World Meteorological Organisation have announced that they're planning to make it the first new cloud classification since 1951.
George Anderson explained the thinking behind their choice of winner. "We were looking for a photograph that most faithfully represents the cloud feature," he told our conference, "and that meant that we weren't necessarily looking for the most dramatic image. This photograph will be used as the reference image to train future meteorologists and weather observers in identifying the cloud feature."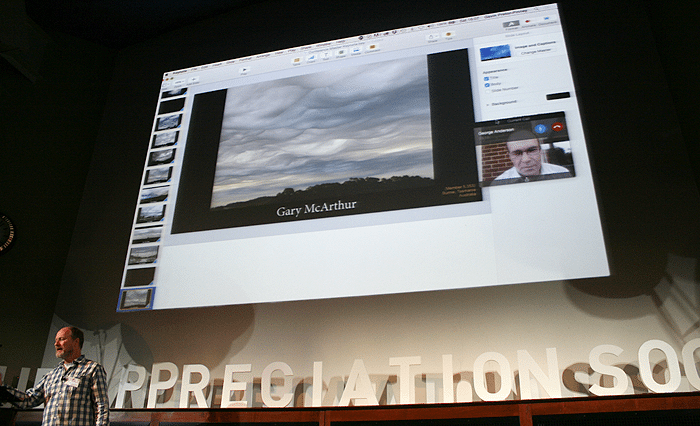 George Anderson of the World Meteorological Organisation's task team announces their choice of winner for our Asperitas Photography Competition.
Here are the rest of the shortlisted entries
We are very grateful to all the photographers who entered the competition. The WMO team said that there were some really great entries and that the choice was not at all easy. Each of the shortlisted entries was a fantastic example of an asperitas cloud.