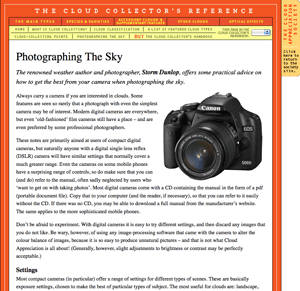 The renowned sky author and photographer, Storm Dunlop, has written a short piece for the Cloud Collector's Reference section of our website with advice for anyone interested in photographing clouds.
Not only does Storm have just about the most appropriate name for any cloud enthusiast, he also knows a lot about sky photography as he is the author of the classic reference book Photographing Weather. In the piece, he offers helpful suggestions on cameras, settings and filters to help you take the best images of the sky.
Any budding cloud photographers should take a look at Storm Dunlop's article Photographing The Sky.