See the Northern Lights from the wild beauty of Northwest Canada
Join the Cloud Appreciation Society for a once-in-a-lifetime expedition to the remote Northwest Territories of Canada. Amongst the tranquil lakes of this epic landscape, you will stay at an eco lodge that we consider one of the best destinations in the world for experiencing the awe-inspiring aurora borealis.
Group 3: 26 Sept - 1 Oct 2022
Above: the aurora over Blachford Lake, Northwest Territories, Canada (© Aaron Von Hagen).
A Remote Eco Lodge by a Lake in Prime Aurora Territory
This epic landscape of lakes and ancient spruce forests is, in our opinion, one of the world's best locations for experiencing the beauty of the Northern Lights. A 20-minute flight by float-plane from Yellowknife, capital of Canada's Northwest Territories, Blachford Lake Lodge is located on a jewel of a lake set in the remote splendour of the Canadian north. The spacious, handcrafted log lodge offers a blend of rustic charm and modern comfort. Visitors can stay in the lodge or, for a real feel of the wilderness, in one of the cosy traditional trapper's cabins, warmed by a wood-fire stove.
Delicious gourmet meals are prepared by the Red-Seal certified chef, and there are a range of fantastic activities to entertain us as well as expert talks about the sky and the aurora. This Sky Holiday is being hosted by Cloud Appreciation Society Member 001, Gavin Pretor-Pinney, who will be joined by one or more experts to help us better understand and appreciate any displays of the aurora borealis during our trip. Kayak or canoe on Blachford Lake at sunset, hike among the fall colours and learn about the nature of the region, fish for whitefish, pike, and trout (catch-and-return!), warm up in the sauna after a refreshing dip in the lake, listen to the loons call as you sit by the outdoor fire, and watch the night sky from the steaming hot tub. And if we're lucky to be treated to a great aurora display, marvel as the northern lights dance across the sky reflected in the calm waters of the lake.
Remote, rustic and eco, the lodge and cabins let you experience the wild beauty of the Canadian north with all the creature comforts.
We consider Blachford Lake to be a world-class destination for experiencing the Northern Lights in beautiful unspoilt wilderness.
The Northern Lights: A Must-See for Sky Lovers
The swirling greens, yellows and sometimes pinks of the aurora are a sight you will never forget. The colours are caused by charged particles originating from the Sun, which have been trapped in Earth's magnetic field, interacting with the molecules and atoms in the upper reaches of our atmosphere. The intensity of the displays depends on the dynamic interaction between the 'solar wind' of charged particles and our shifting, stretching magnetic field. We at the Cloud Appreciation Society know more than most how impossible it is to make promises about what will happen in the sky on a particular date. But we've chosen the location for this amazing trip to maximise the chances of us witnessing a great display of the Northern Lights.
Blachford Lake Lodge is remote enough for us to be away from artificial light pollution, and we are timing our trip around a new moon to ensure minimal reflection of moonlight off the ground and any clouds. The lodge is situated right beneath the 'aurora oval', the ring around the geomagnetic pole within which the Northern Lights form directly overhead. We are making this trip at the end of September when there is a good mix of longer nights and enough daylight for lots of activities, and when average temperatures are relatively mild (average lows of 4ºC/39ºF) - more pleasant than the extreme cold of the Canadian winter! One great advantage of staying at Blachford Lake Lodge is that we don't need to travel to see the lights. When they show, they appear directly overhead. You can enjoy them just by stepping out onto the lodge viewing platform, sitting in the warmth of the outdoor hot tub, or strolling down to the lakeside where there's no sound but the gentle lap of water on the shore.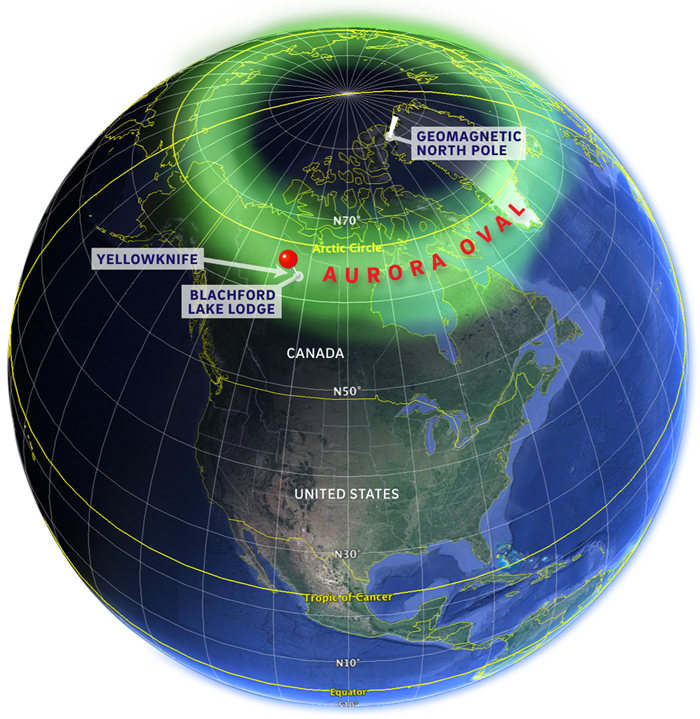 Our destination is Blachford Lake Lodge in the remote Northwest Territories of Canada. It is perfectly situated right inside the 'aurora oval' and well away from any light pollution.
We are timing the trip around a new moon since the reflection of moonlight off the ground and any clouds can slightly reduce the apparent intensity of aurora.
Yellowknife: Vibrant Capital of the Northwest Territories
Before taking the float plane out to Blachford Lake Lodge, we will explore Yellowknife, the capital city of Canada's Northwest Territories. Located on the shores of the Great Slave Lake, this vibrant settlement was founded in the 1930s, during the region's gold rush era. The mining activities have now given way to the business of government of the Northwest Territories region, but the cabins and fish shacks of the Old Town still have a tangible gold-rush atmosphere. The friendly community is a mix of indigenous Inuit, Dene, and Métis peoples with a whole range of immigrants from Europe, North America and elsewhere. The day's tour of Yellowknife at the start of our trip will be the perfect introduction to the rich culture and history of this unique region.
We will enjoy the warm welcome and frontier spirit of Yellowknife, capital of Canada's Northwest Territories.
Arrive in Yellowknife and enjoy the welcome
When you arrive at Yellowknife Airport, you will be transferred to the Explorer Hotel, your home for the first two nights. Your Cloud Appreciation Society Welcome Bag will be waiting for you, and will include useful information as well as CAS goodies and your exclusive Society embroidered patch to commemorate the 2022 trip. Take some time to rest from your flight, but don't forget to look up at the sky! Sometimes the aurora borealis can be seen from the city.
Overnight: The Explorer Hotel, Yellowknife.
Explore the capital of the Northwest Territories
After a leisurely breakfast, you will be met by Rosie Strong, your host for a day of touring Yellowknife, the vibrant capital of the Northwest Territories. Located on the shores of Great Slave Lake, the city boasts stunning landscapes. Our tour of Yellowknife will give us an understanding both of the town's fascinating mining past and its equally interesting legislative assembly, as well as visiting the Old Town. Your day will start with a tour of the Yellowknife Mining Heritage Center for an insight into the colourful history of this city that was founded on the Gold Rush. Then you will take in the Legislative Assembly of the Northwest Territories. This is a fascinating introduction to this remarkable part of Canada and its pioneering consensus system of government.
After lunch at the city's famous Bullocks Bistro, we will get a city tour of Yellowknife. From the Great Slave Lake, to the characterful streets of the Old Town, where the pioneer spirit is alive and well, and taking in the views of Pilot's Monument, we will explore it all, with time for some shopping for anyone who is interested. After time to rest in the afternoon, we will gather at the hotel for evening welcome drinks before we head out to the fantastic Woodyard Brewhouse & Eatery for dinner.
Overnight: The Explorer Hotel, Yellowknife.
We take the float plane across to the Canadian wilderness
Throw open your curtains and take in that glorious vista! Enjoy breakfast at your hotel, and pack up your things - you're heading east. You will be met in the lobby to be taken to the float-plane base for the next part of your adventure. In the late morning, we depart for Blachford Lake Lodge, located in the true wilderness 100km east of Yellowknife. Enjoy the breathtaking landscape on our 30-minute flight as we soar over the countless lakes and boreal forests of the Northwest Territories. Upon arrival, you will meet the Lodge team, and enjoy a delicious hot lunch. You'll get a tour of the facilities and have time to settle into your accommodation for the next three nights. Try out one of the hiking trails, peruse the Northern Library, or relax in the hot tub before an evening talk about the aurora borealis with advice about how best to photograph it. Spend the evening talking to guests and taking in any aurora displays in the vast night sky of these truly stunning surroundings.
Overnight: Blachford Lake Lodge.
Guided nature walks, kayaks and canoes
This morning you'll have a chance to enjoy the unspoilt wilderness around you. Go canoeing with other guests or on your own for a little tranquility, take a guided walk along the beautiful woodland trails to learn the traditional uses for the local plants and find out about the boreal wildlife like the juvenile eagles and loons that inhabit the lake during the fall. Depending on weather conditions, everyone is welcome for a delicious fish-fry lunch on Royal Island, a short way across Blachford Lake. Why not take a bracing dip in the lake when we get back – followed, of course, by a warming sauna? In the evening, an illustrated Tour of Our Atmosphere will be given by Cloud Appreciation Society founder and Member 001, Gavin Pretor-Pinney, followed by a hearty home-cooked dinner. Take a nap if you'd like, but don't forget to step outside for Mother Nature's Ultimate Light Show. Even after you've tucked in, you can request for the Lodge staff on 'Aurora Watch' to wake you if the northern lights are active and in view!
Overnight:  Blachford Lake Lodge.
Group activities and a catch-and-release fishing adventure
After breakfast, at your leisure, there's another full day of activities in store. Why not head out in boats for a three-hour guided fishing adventure? The Lodge has been practicing a catch-and-release fishing policy for 40 years, encountering big fish like 38lb lake trout and 28lb northern pike. And if fishing isn't your thing, you can learn to make healing spruce salve with sap from the nearby trees, engage in group activities with our experts or go fat-tyre biking along the trails. When you get back to the lodge, just relax with a book by the fire as we gather for the group celebration dinner. Take part in our Canadian Skies quiz – with prizes! – and cross your fingers for a good display on your last evening in aurora-watcher's paradise.
Overnight: Blachford Lake Lodge.
We head back west
You are free this morning to spend the time as you wish – perhaps taking a last hike up to the tranquility of one of the local lookouts that afford glorious views across this vast lakeland wilderness. Your flight departs the lodge at approximately 12:30pm for Yellowknife. From there, you'll have time to connect to your flight home. Or why not extend the trip for another night or two (not included in our package)? There is plenty more to see in Yellowknife such as the Prince of Wales Heritage Centre, which is the North's top museum. It showcases the art, culture, industry and history of the territory, with displays featuring everything from mooseskin boats to old-time bushplanes. Blachford Lake Lodge can help you with booking additional nights for you if you'd like.
Per-person price for Lodge or Cabin accommodation:
$3750.00 CAD
+5% tax +$200 staff gratuities
per-person price (in Canadian Dollars)
A guide to the approximate equivalent prices in other currencies (actual conversions depend on exchange rate at time of purchase):
$2950 USD (+5% tax + $165 USD staff gratuities)
£2400 GBP (+5% tax + £135 GBP staff gratuities)
€2850 EUR (+5% tax + €150 EUR staff gratuities)
$4180 AUD (+5% tax + $230 AUD staff gratuities)
Price includes everything listed in the 'What's Included' section and is based on two or more sharing a lodge room or trapper's cabin.
The possibility of changes: The itinerary listed is representative of this trip but details may have to be revised if travel restrictions change. Travel to the territory may be affected by border closures. Please check with our office for current travel guidelines prior to making your travel arrangements.
Individual travellers: We will be happy to arrange for individual guests to share cabins or lodge rooms with others of the same gender. A supplement of 25% is required to book a room or cabin for single use only.
Travel Insurance: Given the ongoing pandemic around the world, all guests are required to arrange comprehensive travel insurance, which includes medical evacuation from a remote location. Blachford Lake Lodge will require proof of travel insurance before a booking is fully confirmed.
Vaccinations: Blachford Lake Lodge requires that along with all of our staff, all guests (excluding children under 12) are fully vaccinated against COVID 19.
Reservation Policy: Bookings are on a first-come, first-serve basis. A deposit of $100 CAD is required to reserve each place. The balance will be due 45 days prior to arrival. In the event that Blachford Lake Lodge needs to close due to the COVID-19 pandemic or because travel into the NWT is restricted your $100 deposit will be refunded in full.
Cancellation Policy: An admin fee of $50 CAD is non-refundable in all situations.
• Deposit is refundable until 45 days prior to arrival (with the exception of admin fee).
• 44-15 days prior to arrival: deposit & 50% of balance is non-refundable.
• 14-0 days prior to arrival: deposit & 100% of balance is non-refundable.
• If the trip is cancelled by Blachford Lake Lodge due to Covid or Northwest Territories entry restrictions: deposit and balance will be fully refundable.
Cloud Appreciation Society welcome bag with special commemorative embroidered patch to mark the trip.
2 nights accommodation Yellowknife.
Yellowknife meals: breakfast, lunch and dinner on Day 2, breakfast on Day 3.
Visit to the Legislative Assembly of the Northwest Territories.
Welcome reception (finger food, wine and beer) in Yellowknife.
All group transfers in Yellowknife.
Flights Yellowknife > Blachford Lake Lodge > Yellowknife.
All meals and snacks at Blachford Lake Lodge.
Non-alcoholic beverages with group meals.
3 nights accommodation Blachford Lake Lodge (lodge room or log cabin).
Cloud Appreciation Society expert talks on two evenings at Blachford Lake Lodge.
Aurora photography and camera advice.
Use of all Lodge facilities (lounge, tipi, hot tub, sauna, bonfire pits, Northern Library).
Optional 3-hour fishing trip.
Group lunch fish fry on Royal Island (weather permitting!).
Handicraft and other group activities.
Flights between Yellowknife and your home city (but the Lodge staff can advise on the necessary arrival and departure flights when you make contact about your booking).
Travel insurance, which is a requirement for this trip.
Any additional tours in Yellowknife.
There are two types of accommodation available. Both are wonderful options in the milder autumn conditions in September. Staying in a cosy room in the lodge means you are just upstairs from where we congregate each day, hang out and eat our meals. Staying in one of the traditional trapper's cottages feels a little more in the wilderness though none are further than 5 minutes walk from the lodge.
There are five rooms in the warm and cosy eco lodge. The lodge has shared bathroom and shower facilities. Lodge rooms have a range of double and single bed arrangements, with each room being able to accommodate up to four guests.
All Lodge rooms include: pillow-top mattresses & down duvets, large windows for aurora viewing, electrical outlets, in-room thermostat, WiFi access.
Set among the spruce trees, the cosy log cabins are built in traditional trapper's style and each have a lake view and feature a minimum of four beds with down duvets. All cabins have en-suite bathrooms and washbasins and are heated by wood stoves, which the Lodge staff can keep roaring for you.
All Log Cabins include: pillow-top mattresses & down duvets, large windows for aurora viewing, electric lighting and outlets, wood-burning stoves for heat, en-suite toilet and wash basin, WiFi access.
JOIN THE WAITING LIST FOR THIS SKY HOLIDAY!
To join the waiting list for this Sky Holiday in either GROUP 1 (19 – 24 Sept, 2022), GROUP 2 (23 – 28 Sept, 2022), or GROUP 3 (26 Sept – 1 Oct, 2022), email the following details to Alice at Blachford Lake Lodge at info@blachfordlakelodge.com:
1) The number of people in your party,
2) Which dates you are interested in,
3) Whether you are requesting a Lodge room or Cabin,
4) Your phone number (including country code).
Alice will be happy to answer any queries you have. A deposit of $100 CAD will be required to reserve any bookings.