Attention All Cloudspotters
You can't look around when you're looking up, so we've had a look around for you.
If you have cloud news that you think we should include here, please email it to us at: contributions@cloudappreciationsociety.org.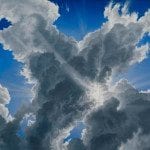 Moatti Masters|Contemporary is pleased to present a major
exhibition of works by the Italian landscape painter Alberto
Bertoldi at their gallery premises on Mount Street in Mayfair,
London. The exhibition brings together a recent collection of
works alongside special commissions from the artist's Cloud
series, being shown for the first time in the UK. Alberto Bertoldi
(b. 1955) began staging award-wining solo shows across Italy in
the early 1990's, before going on to exhibit worldwide at galleries
and shows including Daegu in South Korea, Galerie
Zur.Hofstatt in Basel, Hermitage Gallery in Texas, USA, and
Society Redaktionfest in Vienna. In 2012 he exhibited at the 54TH
Venice Biennale, under the curatorship of Vittorio Sgarbi. He
has been awarded numerous prizes throughout his career
including the Purchase Award and Solo Artist Award from Forni
Gallery. Alberto Bertoldi's Cloud works represent a
contemporary exploration of the Classical traditions of "plein
air" painting, capturing the beauty of painting natural light in all
its power and exploring the human obsession with cloud
formations. This is the inaugural show for Moatti
Masters|Contemporary – a new venture by Emmanuel Moatti
combining his 30 years career in old masters with his passion for
collecting contemporary art, to open a gallery space connecting
the two disciplines and work with living fine artists who draw
inspiration from the art-historical language, in order to create a
new modernity.
The exhibition runs from 1st to 30th October at Moatti Masters|Contemporary, 23 Mount Street, London, W1K 2RP – for more details, please see their website Moatti Masters|Contemporary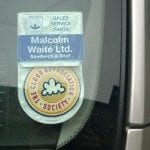 Cloud Appreciation Society member, Mick Garton from Edinburgh in the UK contacted us recently with an innovative idea for what to do with your car tax disc holder now that it no longer has to be displayed on your windscreen in the UK. He has slipped in one of the CAS embroidered patches. As you can see from the photograph he sent us, it fits perfectly and is much more interesting and eye-catching!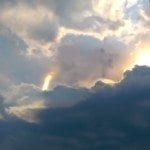 Back in 2011 we wrote a news item about the strange lights that can sometimes be seen dancing in the sky above storm clouds – Dancing Clouds. We saw in a recent post by the Bad Astronomer at Slate Magazine that these amazing light effects, caused by the ice crystals above the storm cloud aligning with the shifting electrostatic fields caused by lightening strikes below, were given a name back in 1971.
In a letter to Nature Magazine about a sighting in 1970, this amazing light effect was named "A Crown Flash".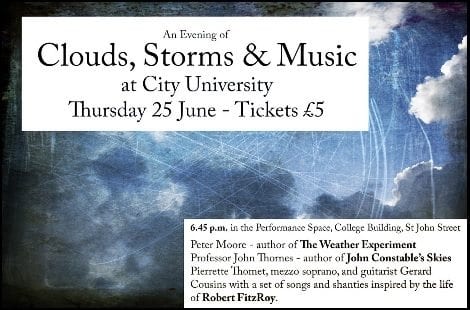 On Thursday, 25th June, City University London will be holding an event, "The Weather Experiment: Clouds, Storms and Music" in conjunction with WAM (Weather Art and Music). Join author Peter Moore and singer Pierrette Thomet for an evening of art, music and weather. They will examine Robert FitzRoy's forecasting experiment, John Constable's famous cloud sketches and there will be music inspired by weather and the sea. There will be a book signing of Peter Moore's The Weather Experiment afterwards.
A further participant at the event will be Professor of Applied Meteorology, John Thornes, who is also one of the speakers at the Cloud Appreciation Society Conference which is being held on 26th September 2015 at The Royal Geographical Society, London.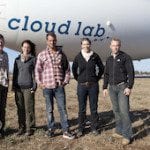 Tuesday 16 June 2015, 6.30pm to 7.20pm
Berrick Saul Building, University of York
The BBC series Operation Cloud Lab: Secrets of the Skies brought together a team of scientists who travelled across the US in the world's largest airship. Along the way they discovered that pollution can affect hurricane strength and they even managed to weigh a cloud. Join Jim McQuaid of the University of Leeds as he reveals some of the amazing sights that ended up on the cutting room floor.
Free tickets available at yorkfestivalofideas.com or via York Festival of Ideas.
As part of our monthly segment on The Weather Channel, Society founder Gavin Pretor-Pinney stuck up a whiteboard and drew a diagram to show how June's Cloud of the Month forms.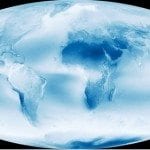 Cloud enthusiast, Michelle Martin, recently posted a link on our Facebook page from The Weather Network. The image shows an average of 13 years of cloud cover data, from July 2002 to April 2015 with the data being collected by NASA's Aqua satellite, using its Moderate Resolution Imaging Spectroradiometer (MODIS) instrument (the darker the colour, the less cloudy it is).
The full article can be seen on The Weather Network website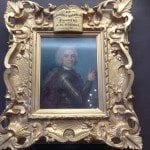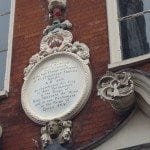 Cloud enthusiast, Jan McIntyre, visited Rochester recently and whilst exploring the village her attention was caught by the decoration of a building and plaster plaque announcing "erected at the sole charge and expense of Sir Cloudsley Shovel in 1706″. Curious about the spelling of dear Cloudy's name, she began looking on the internet and discovered a British heavy rock band called Admiral Sir Cloudesley Shovell, "named after a 17th century English naval commander" – obviously some variety in the spelling of his name!
Since her visit she has done further research and found The Ship and Shovell pub in Craven Passage, Charing Cross and was told by the Rochester Museum that there were a couple of pubs so-named. The pub in Charing Cross, although it is one, is on both sides of the passage and Jan tells us that it is lovely and cosy and inside there is another piece about the gentleman with his name spelt "Clowdisley". Further, when looking for directions from Camden to Highbury, she noticed there was a Cloudsley Road along with a Street, Place and Square, all named after Cloudsley in Islington.
Monday 30 March saw a fantastic display of asperatus clouds over Georgia and North Carolina, US. The photographs below on the Society gallery were taken by LeeAnna Tatum of The Claxton Enterprise newspaper. At the bottom of the page, you can see time-lapse video of the formation.
---