Attention All Cloudspotters
You can't look around when you're looking up, so we've had a look around for you.
If you have cloud news that you think we should include here, please email it to us at: contributions@cloudappreciationsociety.org.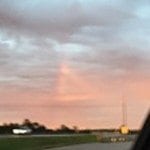 Les Cowley (OPOD), Raymond Lee (US Naval Academy & co-author of Rainbow Bridge) and Gavin Pretor-Pinney (Author & founder of The Cloud Appreciation Society) recently collaborated to find an explanation for this fascinating cloud which was filmed by the Planche family while driving through Mississippi. It has been called "The Mississippi Triangle" and you can see their explanation of how this occurred on the atoptics.co.uk website.

Our friends at the World Meteorological Organisation have asked for help from our members. They're working on a new edition of the official reference book on the classification of clouds, the International Cloud Atlas, and they are currently gathering photographs to include. We've helped out with our competition to find a photograph of the new 'asperitas' cloud but the WMO are also looking for good examples of a range of different cloud types. If you like the sound of your photograph becoming an international cloud reference image, you can sign up and find our more on the WMO Image Submission page.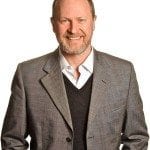 On Monday, 5th October, 7pm at The Tobacco Factory, Bristol Cloud Appreciation Society founder, Gavin Pretor-Pinney, will be amongst the speakers at the launch of the hit event series 5×15 in Bristol.
"5 speakers. 15 minutes each. No scripts. True stories of passion, obsession and adventure for the incurably curious…"
Please visit their website for full details.
John Metcalf of CityLab.com recently posted an article about "asperitas," the first new cloud type identified since 1951 and which the WMO will include in its revised 2016 International Cloud Atlas. The WMO have asked the Cloud Appreciation Society to provide a photograph if this new cloud type and we have recently launched a competition to find the best image with the winner to be announced at the Escape to the Clouds Conference in September.
John's article has some wonderful images and you can read it in full here.
Later this month, we are holding our first major gathering on Saturday 26 September at the Royal Geographical Society in London. Marking ten years of the Society, it will be a celebration of the Science, Art and Culture of the Sky, and it's going to be a truly international affair, with cloudspotters joining us from the US, Poland, Finland, Sweden, Germany, France, Switzerland and elsewhere.
All six of our amazing speakers are ready to inspire and inform, and we have a host of delightful 'shorts' taking place between talks. As a taster, here is the award-winning musician Lisa Knapp's 'Shipping Song', which she will be performing for us on the day.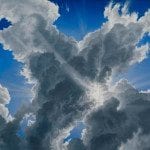 Moatti Masters|Contemporary is pleased to present a major
exhibition of works by the Italian landscape painter Alberto
Bertoldi at their gallery premises on Mount Street in Mayfair,
London. The exhibition brings together a recent collection of
works alongside special commissions from the artist's Cloud
series, being shown for the first time in the UK. Alberto Bertoldi
(b. 1955) began staging award-wining solo shows across Italy in
the early 1990's, before going on to exhibit worldwide at galleries
and shows including Daegu in South Korea, Galerie
Zur.Hofstatt in Basel, Hermitage Gallery in Texas, USA, and
Society Redaktionfest in Vienna. In 2012 he exhibited at the 54TH
Venice Biennale, under the curatorship of Vittorio Sgarbi. He
has been awarded numerous prizes throughout his career
including the Purchase Award and Solo Artist Award from Forni
Gallery. Alberto Bertoldi's Cloud works represent a
contemporary exploration of the Classical traditions of "plein
air" painting, capturing the beauty of painting natural light in all
its power and exploring the human obsession with cloud
formations. This is the inaugural show for Moatti
Masters|Contemporary – a new venture by Emmanuel Moatti
combining his 30 years career in old masters with his passion for
collecting contemporary art, to open a gallery space connecting
the two disciplines and work with living fine artists who draw
inspiration from the art-historical language, in order to create a
new modernity.
The exhibition runs from 1st to 30th October at Moatti Masters|Contemporary, 23 Mount Street, London, W1K 2RP – for more details, please see their website Moatti Masters|Contemporary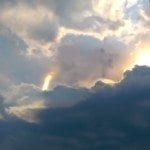 Back in 2011 we wrote a news item about the strange lights that can sometimes be seen dancing in the sky above storm clouds – Dancing Clouds. We saw in a recent post by the Bad Astronomer at Slate Magazine that these amazing light effects, caused by the ice crystals above the storm cloud aligning with the shifting electrostatic fields caused by lightening strikes below, were given a name back in 1971.
In a letter to Nature Magazine about a sighting in 1970, this amazing light effect was named "A Crown Flash".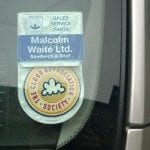 Cloud Appreciation Society member, Mick Garton from Edinburgh in the UK contacted us recently with an innovative idea for what to do with your car tax disc holder now that it no longer has to be displayed on your windscreen in the UK. He has slipped in one of the CAS embroidered patches. As you can see from the photograph he sent us, it fits perfectly and is much more interesting and eye-catching!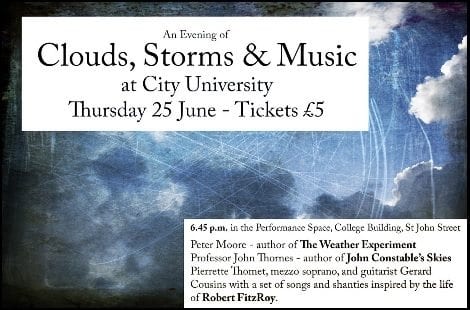 On Thursday, 25th June, City University London will be holding an event, "The Weather Experiment: Clouds, Storms and Music" in conjunction with WAM (Weather Art and Music). Join author Peter Moore and singer Pierrette Thomet for an evening of art, music and weather. They will examine Robert FitzRoy's forecasting experiment, John Constable's famous cloud sketches and there will be music inspired by weather and the sea. There will be a book signing of Peter Moore's The Weather Experiment afterwards.
A further participant at the event will be Professor of Applied Meteorology, John Thornes, who is also one of the speakers at the Cloud Appreciation Society Conference which is being held on 26th September 2015 at The Royal Geographical Society, London.