Attention All Cloudspotters
You can't look around when you're looking up, so we've had a look around for you.
If you have cloud news that you think we should include here, please email it to us at: contributions@cloudappreciationsociety.org.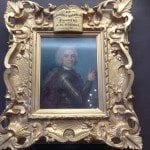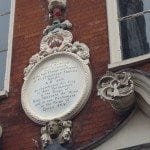 Cloud enthusiast, Jan McIntyre, visited Rochester recently and whilst exploring the village her attention was caught by the decoration of a building and plaster plaque announcing "erected at the sole charge and expense of Sir Cloudsley Shovel in 1706″. Curious about the spelling of dear Cloudy's name, she began looking on the internet and discovered a British heavy rock band called Admiral Sir Cloudesley Shovell, "named after a 17th century English naval commander" – obviously some variety in the spelling of his name!
Since her visit she has done further research and found The Ship and Shovell pub in Craven Passage, Charing Cross and was told by the Rochester Museum that there were a couple of pubs so-named. The pub in Charing Cross, although it is one, is on both sides of the passage and Jan tells us that it is lovely and cosy and inside there is another piece about the gentleman with his name spelt "Clowdisley". Further, when looking for directions from Camden to Highbury, she noticed there was a Cloudsley Road along with a Street, Place and Square, all named after Cloudsley in Islington.
Monday 30 March saw a fantastic display of asperatus clouds over Georgia and North Carolina, US. The photographs below on the Society gallery were taken by LeeAnna Tatum of The Claxton Enterprise newspaper. At the bottom of the page, you can see time-lapse video of the formation.
---
On the 7th March a particularly dramatic display of lenticularis clouds formed over North Wales. They were of the form known as 'pile d'assiettes'. This is the French for a pile of plates and refers to lenticular clouds that have the distinctive stacked appearance. You can see examples of the formations sent in to our photo gallery below.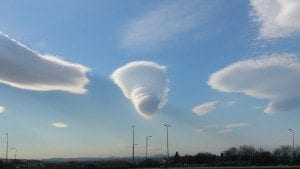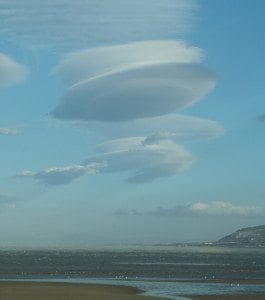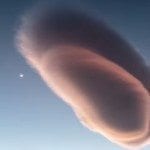 Cloud enthusiast, Bernard L Reymond, recently sent us the link to NASA's Cloud of the Day for 2nd March. This is an image of a Lenticular cloud, the Moon, Mars and Venus and was taken by Nuno Serrão. Once you have read all the information onthe NASA website about this photograph, you might also enjoy watching the associated video.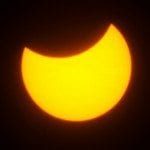 A solar eclipse will be visible from the UK on the morning of 20th March 2015. Although primarily an astronomical event, a solar eclipse can also affect the weather*. If you will have access to measurements of air temperatures, wind speeds, or can safely observe the cloud amount by eye, the Department of Meteorology at the University of Reading invites you to take part in NEWEx, the National Eclipse Weather Experiment, a citizen science project to collect weather data during the solar eclipse for detailed analysis. Full instructions for submitting data are given at www.met.reading.ac.uk. Some of the results from this endeavour are likely be discussed as part of a BBC Stargazing Live event on the day of the eclipse, and will also be analysed more formally.
*A brief summary of some of the anticipated eclipse-related weather changes is given here: How do solar eclipses affect the weather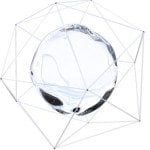 The UAE is offering grants for research programmes into enhancing the yield from rain clouds. Anyone interested in applying for a grant would need to supply an online proposal by 16th March 2015.
For full details please visit the UAE Research Program for Rain Enhancement Science website.
This week, Mark Philips, a reporter for CBS Evening News in the US, visited us for a bit of cloudspotting.
Here is his report: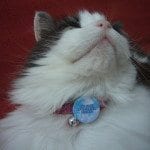 This is a photograph of Cloud Appreciation Society member 30943, Jazz Coathup. It was sent by her owner and companion Paul Coathup who says "this photo is slightly unusual in that she is lifting her head skywards, more often than not she prefers to lay on her back and just gaze upwards in wonder at the sheer variety of clouds that are free for all to see."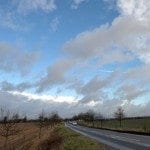 Cloud enthusiast, Tim Oxton, recently sent us this story he saw on the EADT24 website. On 28 January the sky was blue and beautiful over Framlingham, Suffolk. But within minutes photographer Sarah Lucy Brown had captured a dramatic change in the sky. "The colours are incredible and quite a contrast from the blue to the dark grey, all in a matter of minutes," she said.
To see her images, please view the EADT24 Gallery