Cloudspotting from the Air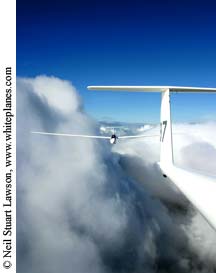 If you saw the recent footage of Gavin Pretor-Pinney on the BBC TV One Show shorts about cloudspotting, you'll have realised that one of the best ways to admire clouds is to get up close to them in a glider.
The gliding footage was taken from the Lasham Gliding Society's home at Lasham airfield in Hampshire, UK. This is the 'mecca' of gliding in the UK and has some 800 members who are passionate about exploring the wonder of the sky in sleek and silent flying crafts.
They are big fans of clouds at Lasham. The clouds show the pilots where they'll find the rising air that keeps gliders aloft and allows them to soar across the countryside – sometimes for hundreds of miles when the weather is right. For this reason, glider pilots spend a lot of time looking up and watching the clouds. There is no better place to enjoy them than up at their level, from the front seat of a glider.
C.A.S. members who like the sound of an aerial cloudspotting trip at Lasham are in luck. They are offering a reduced rate to our members of a trial flight with one of their friendly instructors for £65. This includes three months membership of the club to allow you to do some more flying if you wish, and at members' rates.
For more information on Lasham Gliding Society: www.lasham.org.uk
For bookings call the Lasham Gliding Office on 01256 384 900
And if you are not near Lasham, find a gliding centre in your region of the UK: www.gliding.co.uk