Society members kindly contributed their hilarious photos of clouds that look like things for our little gift book…
---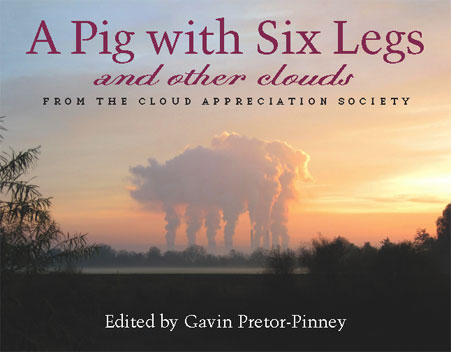 This is the UK Cover. Click here to see US Cover
We have put together a little photography book of our favourite clouds in the shape of things from the Cloud Gallery. We enjoy receiving these photos more than any others. They are perhaps the rarest of the lot. Not only did someone have to be looking up just at the right moment, and happen to have a camera with them at the time, they also needed to be in the particular frame of mind required to be able to see shapes in the clouds. It is the playful side of cloudspotting, which is why children are always so good at it.
For ages, we've thought that a collection of these photographs would make a great book. So we're very grateful to all the members who have allowed us to include their images, and very sorry to those whose didn't make this edition.
The book contains 32 fantastic colour photographs – from clouds in the shape of dogs barking to flying saucers, from the face of Salvador Dalì to the Michelin Man robbing a bank. We think it makes a great gift book, and will also be good for the younger cloudspotter or anyone else who can't be bothered to read all the words in The Cloudspotter's Guide.
We also hope it will encourage even more people, be they children or adults, to find a few moments in the day to gaze up and let their imaginations wander among the shifting shapes of the sky.

UPDATE: This book is now out of print (though you can get second-hand copies from the Amazon Marketplace link below). We are however compiling a fantastic new book of members' photographs of Cloud that Look Like Things. We already know it is going to be brilliant, and it will be out in the UK in April 2012.


O R D E R T H E B O O K :
Second-hand copies of the UK hardback edition can still be found from amazon UK:
BUY 'A Pig with Six Legs, and other clouds…' from amazon.co.uk.

The US paperback edition is called 'Hot Pink Flying Saucers, and other clouds…' You can still order it second-hand from amazon US here:
BUY 'Hot Pink Flying Saucers, and other clouds…' from amazon.com.
---
"O ! it is pleasant, with a heart at ease
Just after sunset, or by moonlight skies,
To make the shifting clouds be what you please."

Samuel Taylor Coleridge, Fancy in Nubibus
---